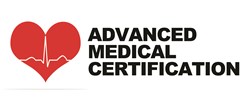 Las Vegas, NV (PRWEB) August 12, 2013
Jane Young, Director of Social Outreach at Advanced Medical Certification (AMC), has named the top four free apps that are currently trending in the health industry that are designed to help anyone achieve, support, and maintain a healthy lifestyle. These apps are perfect for any phone or tablet user looking to lose weight or get in shape. Each app provides specialized informational assistance to help users pursue a healthy lifestyle, such as exercise instructional videos, calorie counters, and the latest medical news.
The Top Four Free Trending Health Apps include:
1) Jillian Michaels
Choose from different categories that are packed with exercises, slimming recipes, and weight tracking information. Try one activity or combine several to create a full-body workout. If running is someone's idea of physical nirvana, there is a section just for that person. Track distance, save favorite routes, and compare previous results.
2) Medscape
Medscape has a database that can access over 4,400 illnesses and conditions. The users of this app will have a wealth of health information at their fingertips. Search its library for prescription bios, harmful medication interactions, and the latest medical news.
3) Calorie Counter and Diet Tracker
Simple to use, the Calorie Counter and Diet Tracker app serves as a food diary, exercise tracker, and diet coach all in one. Search for the calories and nutritional information of over 3,000,000 foods. When users record their meals and workouts, the app automatically calculates the amount of calories consumed. If losing weight is their goal, this app will flag how many calories they have remaining in order to meet their daily requirements. As an added bonus, there is a website component so each user can conveniently add or review information online as well.
4) Nike Training Club
Nike Training Club has multiple exercises and routines to get every user lean, toned, and strong with more than 100 different workouts. The app features detailed instructions and audio support to help throughout each drill.
In an effort to keep the public informed on the latest health trends, AMC enthusiastically recommends each of these extraordinarily useful apps for their instrumental health and fitness knowledge. Armed with these tools, we can help our bodies to prevent and fight illness more effectively in order to support a longer life.
About AMC
Advanced Medical Certification (AMC) is the leading online ACLS, PALS and BLS Certification and Recertification provider for health care professionals. Our ongoing mission is to create and provide health care professionals with the most convenient and simple methods of meeting their certification or recertification needs. All course information, study material, and exams can be accessed directly from the AMC website. For more information visit http://www.advancedmedicalcertification.com.