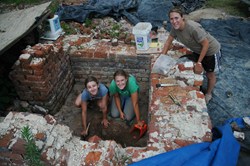 What do preserves and jam have in common with saving historic buildings?
Boulder, Colorado and Gloucester, Virginia (PRWEB) August 13, 2013
A group of students, professionals and history lovers will be heading to Fairfield Plantation at the end of August to dig into the past, Adventures in Preservation announced. The travelers, known as "jammers", will learn practical archaeology and historic preservation skills as they undertake work on the 1694 plantation house foundation.
"What do preserves and jam have in common with saving historic buildings?" asks Judith Broeker, AiP's Program Director. "Not much it would seem, until now!"
She explains that non-profit Adventures in Preservation was once mistaken as a source for tips on making preserves and jams, and their staff liked the idea of having something in common with this age-old practice. "We decided that 'jammers' would be a great name for our intrepid preservation travelers. Not only do we preserve, we also do it with great focus and enthusiasm, along with the other jammers of the world – wind and music," explains Ms. Broeker.
The group of AiP jammers heading to Virginia will spend the last week of August learning from Ray Cannetti, one of the leading specialists in the U.S. on historic brick and stone masonry; Matt Webster, Colonial Williamsburg's curator of architectural collections; and Jason Whitehead, Supervisor of Historic Masonry Trades at Colonial Williamsburg.
Work completed during the week will provide information that helps visitors understand the significance of this manor house. It will help define how the manor house relates to the landscape and how it affected the lives of the owners and the enslaved workers who toiled at Fairfield for over two hundred years.
For more information on the project in Gloucester, Virginia, and other AiP experiential travel projects, check out AiP's listing of current projects.
Adventures in Preservation (AiP) is a non-profit organization connecting people and preservation through enriching experiential programs that safeguard cultural heritage and foster community sustainability. AiP travelers have the opportunity to travel, experience their destination, and learn hands-on skills from experts while assisting communities in saving their historic resources. Learn more about AiP's "Heritage travel with purpose" at http://www.adventuresinpreservation.org.