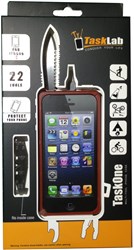 Simply put, the TaskOne case turns your iPhone into a Swiss Army knife, literally.
Atlanta, Georgia (PRWEB) August 12, 2013
Today, Tasklab officially began shipping the highly anticipated TaskOne, a breakthrough smartphone case that not only protects your phone, but transforms it into a fully functioning multitool that fits in your pocket. TaskOne combines twenty-two of the most useful tools engineered into a tough, but lightweight and slim functional package.
This ultra-durable multitool case retails for $99.95 and is currently available for the iPhone 4, 4S and 5.
"TaskOne was designed to be both a serious and functional tool and a stylish and protective case," said Addison Shelton, TaskLab's Founder and Chief Engineer. "Whether you're an engineer like me or you're camping out in the woods, TaskOne is the tool for you."
Next Generation iPhone Case
TaskOne leads the charge of the next generation iPhone cases that offer ultimate phone protection and functionality to complete tough real world tasks. TaskOne accomplishes this by utilizing quality hardened tool steels, aircraft aluminum, and polycarbonate to create the world's most useful phone case. Measuring at only 89 grams and 5mm thick, Taskone is not only useful, but adds minimal bulk to your phone.
TaskOne contains twenty-two useful tools that are not only feather-light, but strong enough to withstand everyday abuse, all while protecting your phone. Some of these tools include a 2.5" knife, a 1.8" saw blade, small and large flathead screwdrivers, a Phillips screwdriver, pliers with an integrated wrench, wire cutters, six metric Allen wrenches, a wire stripper, spoke wrenches, a bottle opener, a ruler and kickstands.
The TaskOne tools are housed in a light but strong precision-machined aircraft aluminum enclosure that connects to your phone through molded outer polycarbonate bands. The tools are safely secured via custom spring assemblies, easily extended by the low-profile buttons on the back of the phone, and automatically fixed in the extended position during use. In addition, the raised bezel on the front of the case provides superior protection for your screen.
TaskOne is not only functional, it also offers a sleek and stylish design that comes in a variety of brilliant colors such as Slate Grey, Cherry Red, Jet Black and a limited-edition Flame Orange. While it beautifully integrates with your phone with its elegant design, TaskOne does not sacrifice performance.
"Simply put, the TaskOne case turns your iPhone into a Swiss Army knife, literally" said the staff at TechBlog.
About TaskLab
Soon to be known as the world's #1 innovator of truly useful and protective smart phone covers, TaskLab is passionate and fully committed to bridging the gap between everyday smartphone cases and useful products. With thousands of their unique cases sold during pre-order, TaskLab is soon to be a household name.
Based in Atlanta, GA with all design-work completed in the USA, TaskLab bases their company's philosophy not just on designing better versions of familiar products, but on designing new and innovative products that are one-of-a-kind and never fail to impress.