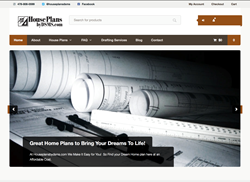 Quality, not quantity is the focus of my company.
Macon, GA (PRWEB) August 19, 2013
Drafting and Soil Monitoring Services, a leading designer of house plans in the Macon, Georgia area, is pleased to announce its expansion throughout all countries around the globe. House Plans by DSMS takes pride in offering quality house plans and drafting services at affordable prices. In today's economy, product affordability is a rare commodity that everyone deserves and can truly appreciate. The online retail website http://www.HousePlansByDsms.com offers many house plans that can also be modified to suit the personal tastes of the customer.
Many people love various aspects of different home designs but never find them in one composite home plan. House Plans by DSMS allows the customer to compile all of their ideas into one beautiful blueprint. In doing so, each home design plan offers the capacity to become the custom house plan of each purchaser. This is a rare characteristic of most house plan suppliers because most designers will only sell a residential home plan without the option to modify the plan of choice. The website also offers free insight about buying and building a home.
Joseph Brown, owner of http://www.HousePlansByDsms.com says, "Quality, not quantity is the focus of my company. Everyone is different and has a unique idea about what they want and need. Therefore, I take pleasure in being able to give the buyer exactly what they should have. I want the buyers to feel like the house plan is uniquely, theirs!"
For this reason, House Plans by DSMS further offers its drafting services to anyone who has an idea or invention in mind that they would like to patent in ink using sophisticated computer aided design software. The beauty of this is that the design remains the property of the inventor with no commitments to Drafting and Soil Monitoring Services or House Plans by DSMS. "We are here to give people what they want!" says Joseph.
Since all companies serving the public are required by law to have an evacuation plan on premises, House Plans by DSMS gladly extends its drafting services to these companies and offers free quotes. These drawing can be converted to PDF format for your convenience and sent to persons of interest via the email address provided. House Plans by DSMS offers many additional services which can be viewed by visiting the website found at http://www.houseplansbydsms.com/drafting-services.
In celebrating the launch of the new website, House Plans By DSMS is pleased to announce that the design plans are offered at a price that saves you $100s even $1000s of dollars. Generally downloadable plans cost more than printed sets. This is not the case with the house plans purchased from House Plans By DSMS. The stock house plans can be downloaded at an affordable price of $377.33. Once the buyer downloads these plans, he or she may print these residential drawings at a local Office Depot, Staples or any retail office supply store using large format printers. House Plans by DSMS ships freely within the United States via U. S. Postal Service. International shipment is also available at a low cost.
About Drafting & Soil Monitoring Services, LLC: The owner, Joseph Brown, has more than 15 years experience in drafting and home designing. He offers stock house plans and custom home plans. His website, http://www.HousePlansByDsms.com, offers many different house styles including European house plans, French home plans, Bungalow house plans, Country house plans, Cottage house plans, Cabin plans, Contemporary house plans, Modern house plans, New England style house plans, Ranch home plans and many other residential home design styles. As guests visits the website they will find 1 story house plans, 2 story house plans, single family, multi-family dwelling floor plans, and motor home garage plans. For more information or free quotes, contact customer support at draftsoil(at)aol(dot)com.