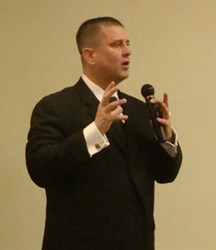 "We are thrilled to represent Robert Parkerson during his National Media Tour. Contact us immediately to get him booked on your program or next event!" Andrea Adams-Miller, CEO of TheREDCarpetConnection.com Publishing, Publicity, and Talent Agency
Dallas, TX (PRWEB) August 12, 2013
"The best way to increase sales ratios for CEOs, sales professionals, and entrepreneurs are to provide them access to cutting edge sales secrets without the traditional hype other sales trainers use to lead them astray. Other sales trainers are not sharing these professional secrets because they do not know them!" said Mr. Robert Parkerson who will dispel the myths your listening and viewing audience has been lead to believe. "I will bust the traditional sales training myths and replace them with techniques that work during my 'Stop Selling; Start Listening' National Media Tour this next month."
Robert Parkerson, known to the media, including ABC, Fox News, and BlogTalk Radio™ as "America's Leading Authority on Relationship Selling," provides the only myth busting tips that will show seasoned sales managers how to achieve massive success regardless of the economy. During Robert's media blitz including radio, television, blog, and print outlets, he will inspire, motivate, and activate your audiences to take action with enthusiasm.
"This 'Stop Selling; Start Listening' National Media Tour is necessary from my experienced perspective because I am tired of hearing how these emerging and seasoned professionals are still being taught old, outdated 'closes' that simply cannot do the trick. Instead, these antiquated methods literally cause CEOs, sales professionals, and entrepreneurs to fail when it comes to transforming ordinary contacts into loyal clients, abundant referrals, and repeat business," shared Mr. Robert Parkerson.
Mr. Parkerson, CEO and founder of RPI, Inc. and the website http://www.RobertParkerson.com has over 20 years of truly successful applied business experience in the public and private sectors making a difference in the lives of thousands of people all across the United States and Canada with his speaking platforms, private coaching, and consulting programs.
Honored as a highly sought after professional keynote speaker, best-selling author, business consultant, and relationship selling authority, he has received numerous awards and recognition. These awards include the 'Chairman's Award for Excellence' from Mainstreet Financial Group, the 'Diamond Leadership Award' from the Alabama Society for Entrepreneurs, the 'Rising Star Award' from World Marketing Alliance, and the recent induction into the 'National Academy of Best-Selling Authors™,' among many others.
Like many entrepreneurs, Robert Parkerson knows the meaning of hard work. Raised in the impoverished Mississippi Delta, Mr. Parkerson was born in the cotton capital of the world, Greenwood, MS where he learned the power of hard physical labor from roofing at the age of the 7 years old to bush hogging empty lots at 12 years of age. Being forced into becoming 'the man of the house' at age 17 when his father was brutally murdered, he became an adult fast by attending college full-time while starting his own entrepreneurship, his own Martial Arts Studio.
"Since then, Mr. Robert Parkerson has owned a very large Financial Planning practice in Florida, been asked to take over a brokerage firm, and started providing training seminars to show other companies sales managers and executive staff how to excel in various areas of sales and business management. Presently, he is a national public speaker, trainer, business consultant, and more."
Parkerson has read hundreds of books on success and personal growth and recently co-authored the 5 time Best-Seller: 'Nothing But Net; The World's Leading Speakers, Trainers and Entrepreneurs Reveal Their Top Secrets To Increase Your Bottom Line Health, Wealth and Success.' Additionally, he has his own personal book; 'Stop Selling, Start Listening; The Three Keys To Transforming Ordinary Contacts Into Customers, Referrals and Repeat Business.'
After great success with both books, Robert was asked to partner with New York Times Best Selling Author Brian Tracy to co-author a 3rd book. His third book is titled, Jump Start Your Success; 9 Top Speakers Share Their Insights for Creating More Success, Wealth, and Happiness, Vol. 2.'
Due to continued success, Robert has had the honor of sharing the stage with major persons of interest including Dr. Bill Dorfman, from ABC's "Extreme Makeover" and CBS's "The Doctors," and Stedman Graham (Businessman & Oprah's man). Additionally, Parkerson has shared the stage with the Academy Award Winning Actor Glenn Morshower from "24," "The West Wing" and "Transformers," as well as, former Superbowl Champion and NFL MVP, Joe Theisman.
In the arena of personal and professional development speaking, he has spoken alongside James Malinchak from season #1 of ABC's "Secret Millionaire;" Jack Canfield who co-authored the "Chicken Soup for the Soul" series selling over 400 million books; and over 20 other industry leaders (all of whom have been long time mentors and heroes of Robert's).
"I have the skills, experience, and success to validate the numerous CEOs, sales professionals, and entrepreneurs that have experienced the success of my teachings," states Mr. Robert Parkerson. "By staying sharp and by consistently seeking new resources for evident sales techniques that work, I empower, inspire, and educate you and your professional sales managers and organizational leaders to improve your bottom line profits, increase overall business relationships, and boost sales team morale towards lucrative success."
To secure your radio, television, blog, or print media interview with Robert Parkerson during his "Stop Selling; Start Listening" National Tour Lineup, go to The RED Carpet Connection Publishing, Publicity, and Talent Agency's site. Contact The RED Carpet Connection to schedule Mr. Robert Parkerson for media interviews or an upcoming events. Please, refer to 'Robert Parkerson' in your correspondence.
Visit The RED Carpet Connection Publishing, Publicity, and Talent Agency to become published, publicized, and profitable.