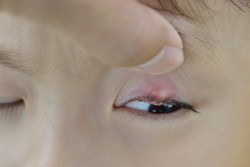 Most styes get better within a few days, without treatment.
London (PRWEB UK) 12 August 2013
A stye is a small abscess on the eyelid, which appears as a painful lump on the outside or inside of the eyelid. Other symptoms can include a watery eye, and a red eye or eyelid.1
Styes are fairly common with most people suffering from one at some point in their life, and they are usually caused by an infection with staphylococcus bacteria.
External styes can also be caused by an infection of an eyelash follicle, or an infection of the sebaceous or apocrine glands, which help to prevent the eye and eyelashes from drying out. 2
"Most styes get better within a few days, without treatment", says Omar El-Gohary, superintendent pharmacist at ChemistDirect.
"But a warm compress will encourage the stye to heal more quickly. Using a clean cloth soaked in water that's not too hot, apply the compress for five to ten minutes, repeating every hour until the stye clears or releases some pus (a sign of healing)."
"If the stye appears to be getting worse, whether it's more painful or just not healing up, patients should visit their GP as they may need an antibiotic cream which their doctor can prescribe."
Due to its immune-stimulating and skin-healing properties, patients should also consider taking Vitamin C for a month or two, while the stye is healing up.
Neat tea tree oil can also be applied, via a cotton bud, to the affected area two or three times a day, as it is known to inhibit the Staphylococcus bacterium. But patients should be careful not to get the oil into their eye as this may sting and cause irritation. 3
References
1. http://www.nhs.uk/Conditions/stye/Pages/introduction.aspx
2. http://www.nhs.uk/Conditions/stye/Pages/causes.aspx
3. http://www.dailymail.co.uk/femail/article-185440/Can-natural-medicine-cure-stye.html