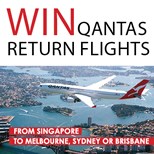 Singapore is one of Asia's largest transportation airports, and the Kangaroo Red Tail is always a welcomed sight when I travel between our Asia offices
Singapore (PRWEB) August 14, 2013
The fortunate winners will fly from Singapore and can choose from a selection of Australian destinations including Sydney, Melbourne and Brisbane.
Qantas is one of the oldest commercial airlines in the world, operate one of the most extensive flight networks and have been flying in and out of Singapore for decades and have built an outstanding reputation amongst local travel-goers and businessmen alike. Singapore, Changi Airport is one of the most well travelled and well received destinations for Qantas and acts as a major hub for Asian routes.
UCHK CEO, Scott O. Talbot has been a Qantas frequent flyer member since March 1993 and has always flown with Qantas: "Singapore is one of Asia's largest transportation airports, and the Kangaroo Red Tail is always a welcomed sight when I travel between our Asia offices."
UCHK have offices and associates throughout asia and offer clients advice and consultation on Australian property investment.
Singapore residents can enter the competition by visiting http://www.property.org.au/qantas.html.