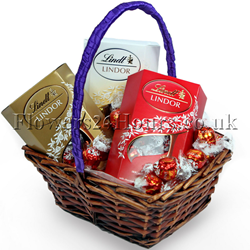 'We have developed a bit of sweet-tooth with thinking up new chocolatey gifts' says managing director Todd Z.Todic 'we have been chockoblocked with ideas and have been looking forward to the launch of the new range'
(PRWEB UK) 14 August 2013
Flowers24hours has been designing a new chocolatey range ahead of the summer season. The floral designers from the UK have been putting their creative minds together to come up with affordable and luxurious gifts which would be perfectly suited for any occasion.
The online florist company only uses premium branded products. Their new confectionary line includes Lindt Lindor chocolates and Ferrero Rocher; both chocolate companies are considered as renowned master chocolatiers who are favoured worldwide.
The chocolates have been teamed up with Moet & Chandon champagne, and Cottage Delight foods, Flowers24hours aim to offer unique and stylish gifts which cannot be purchased elsewhere.
The new selection includes:
Chocolate Basket
This delicious gift includes Lindt Lindor dark, milk and white chocolate truffles which are gift-wrapped and placed into a hand-woven basket. 'Chocolate Basket' has been designed for both men and women and would be the perfect gift for the chocoholic in your life.
Champagne & Chocolates
This sophisticated gift combines Moet & Chandon champagne 75cl with Lindt Lindor chocolates 200g. The items are gift-wrapped in a stylish black basket which is finished with a luxurious bow. 'Champagne & Chocolates' is the perfect gift for a celebration, congratulations or a simple "Thank you".
Bubbly Bear
Bubbly Bear says it in its name; the fabulous gift includes a 30cm cuddly teddy bear with a bottle of house champagne. To make the gift extra special our florists have also included a basket of Ferrero Rocher chocolates. 'Bubbly Bear' would make a great 'Happy Birthday', 'New Job' or 'New Home' gift.
Surprise!
Surprise your friend or loved one with this delicious premium gift for delivery in the UK! 'Surprise' includes a box of Lindt Lindor assorted chocolate truffles 200g and a large 75cl bottle of Moet & Chandon champagne. Flowers24hours have also added a small cuddly teddy bear to make the gift complete.
The new gifts are available online in the UK from August 2013; the treats can be bought for same-day London delivery and next day delivery nationwide. The gifts are available for customers all over the UK and can be teamed up the company's additional line which includes teddy bears, wine and balloons.
About Flowers24hours
Flowers24hours is an online florist based in the heart of London. Established in 2001, the company has a large selection of birthday gifts, anniversary gifts; get well soon gifts, congratulations gift and thank you gifts which have been designed to be suitable for everyone. Flowers24hours offers a timed same day delivery service to London and a next day delivery nationwide.