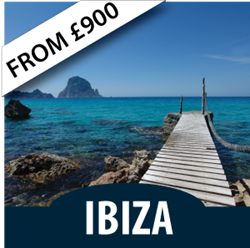 Marrying abroad is becoming increasing popular, with one in six British weddings now taking place overseas.
(PRWEB UK) 13 August 2013
Ibiza weddings are in high demand amongst British tourists, the lure of the beautiful views, glorious weather and the idyllic beaches is causing Britons to pack their bags and get married aboard. With its natural and cultural assets Ibiza is unique and beautiful. Ibiza City has so much to offer with its diversity of shops, restaurants and bars and is the perfect place to party before and after a wedding. The quiet and peaceful coastal areas are ideal as a place for the happy couple to get away and enjoy the start of their new life together.
Marrying abroad is becoming increasingly popular every year, according to the Daily Mail now one in six British weddings take place overseas. With around 280,000 UK couples getting married overseas in the last five years. With this growing trend for marrying abroad, fuelled by the publicity surrounding many famous couples choosing to an exotic location for their nuptials, many Brits are choosing to follow in their footsteps.
America, Spain and Italy are proving to be the most popular choice of destinations amongst Brits wanting to marry abroad. A recent study by LV Travel Insurance, discussed by the Daily Mail, demonstrated the benefits of overseas marriage, with many happy couples reporting savings of up to £10,000; with more set aside for an extravagant ceremony. In England up to £15,000 alone might be directed for a manor venue and catering. Whereas abroad the same money could get the happy couple, a marquee on the beach, lanterns, live cooking stations making sushi and sashimi, champagne, cocktails and a beautiful setting, not to mention the option to fly by private jet share courtesy of the Luton based Lux-Jet.
The Lux Jet website offers a simplified online solution enabling travellers' access to luxury travel by booking seats on a private jet to destinations including Ibiza, Palma and Mallorca. Couples can book two seats and travel with like-minded people or book all six seats aboard and travel with friends and family.
With complimentary champagne and snacks available on board passengers can experience luxury private jet travel at an affordable price. Flying from Luton international airport they can park close to the air hangar in a secure car park. Passengers can arrive just 15 minutes before the departure time, avoiding all the hassle associated with travelling by a budget airline. Hassle is the last thing anyone wants on the way to their wedding. On arrival in Ibiza travellers are transported via VIP transport from the Cessna Citation jet. Seat prices to Ibiza start from £900 one way and the convenient flight times mean that passengers can enjoy a short break or a longer vacation in the European sun.
To book luxury flights with Lux Jet's private jet share to complete your dream wedding, find out more by visiting http://www.lux-jet.com today.