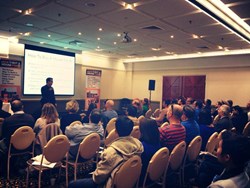 Sellers could easily attract buyers into their Melbourne property if they concentrate on selling the opportunity of being a home owner with the help of just $1, instead of showing home buyers the features and of a house
(PRWEB) August 18, 2013
Rick Ottton, author of How To Buy A House For A Dollar, will hold a free real estate investment seminar in Melbourne on 25 August to reveal the truth about the right time to buy and sell Melbourne real estate.
2 studies conducted recently found that there are less people who believe that now is a good time to buy Melbourne property. According to the authors of the first report, this resulted from the 6 percent decline in confidence for family finance. The second report followed that positive sentient fell 20 percent from last quarter's 27 percent gain.
Overall, report authors believe that homebuyers are holding off their purchase of Melbourne real estate until there is clear sign of price improvement for residential properties.
"Home buyers and sellers who are weary of the ups and downs of traditional real estate processes should try out creative solutions, because, unlike in the old ways, it's always a good time to buy and sell houses if you're using the new standard in property transactions," Mr. Otton explained in an episode of Creative Real Estate iTunes podcast.
"Sellers could easily attract buyers into their Melbourne property if they concentrate on selling the opportunity of being a home owner with the help of just $1, instead of showing home buyers the features and of a house," he said.
He also reminded sellers to create positive experience for everyone, even people who are just "taking a look" at a property, so they can attract more people to become home buyers.
"Buyers, on the other hand, should take advantage of the chance to get a Melbourne real estate by 'babysitting' existing debts because the banks are rarely approving new home loans right now," according to Mr. Otton.
"Aside from that, buyers don't have to deal with expensive stamp duties and additional costs of buying a new property when they are 'babysitting' old loans," he added.
Mr. Otton further discussed that home buyers and sellers shouldn't be fazed when reading negative forecasts about the property market, since creative real estate solutions can help them solve these economic hurdles easily.
Join Rick Otton in Melbourne on 25 August for his Hobart property event. The event is free of charge, so register now at http://www.howtobuyahouseforadollar.com/.
About Rick Otton
Rick Otton has spent decades making money by snapping up inexpensive real estate and putting it to work building wealth, and teaching others to do the same.
He is the founder and CEO of We Buy Houses, which operates in the US, UK, Australia and New Zealand, and through this business he puts his strategies to work every day.
Mr Otton received his start in alternative real estate investment in 1991 in the US, and within a year acquired 76 properties. In subsequent years, he made a fortune using his low-risk, high-reward strategies to inexpensively acquire real estate. He continues to do so.
As well Mr Otton travels between his home in Australia, and the UK, sharing his wisdom and teaching others how to buy and sell real estate, free from the constraints imposed by traditional lenders.
In 2013 Rick is celebrating the 10 year anniversary of introducing his property option strategies to real estate investors in the United Kingdom – the first person to reveal these ground-breaking strategies. In 2008 he created the first of his 'Houses for a Pound' strategies, upon which he grows as markets and laws evolve.
Mr Otton has been featured in a variety of television programs and magazines and in 2013 he published 'How To Buy A House For A Dollar' for the Australian market. This book has been named in the list of the Top 10 Most Popular Finance Titles for 2013, as voted by Money Magazine and Dymocks Book stores. A UK version is on the drawing board.
For full details of Mr Otton's upcoming 'How to Buy a House for a Dollar' seminars in major cities across the nation, visit HowToBuyAHouseForADollar.com or phone, in Australia 1300 888 450.
For general information about Mr Otton, visit http://www.RickOtton.com.