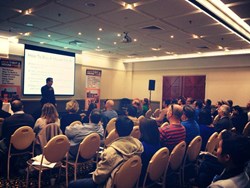 The events after the financial crisis demand a new standard for real estate processes. A standard which can work not only in favourable market conditions, but also in times of crisis.
(PRWEB) August 19, 2013
Rick Otton, author of How To Buy A House For A Dollar, has announced that he will be holding a free, one-day seminar in Hobart on 27 August to talk about how buying and selling houses with creative strategies can be useful in both strong and weak Hobart property markets.
Sales for Hobart real estate jumped 18 percent for the second quarter of 2013 - the highest recorded growth for Hobart in the past three years.
This announcement comes with the news report that Tasmania's real estate market had a robust performance in the same period. Total house sales went up 10.5 percent, while median house prices also rose 2.5 percent or at the value of $299,250.
"Looking at these statistics, it seems that the Hobart property market is in great shape for now, but with the help of creative strategies, owners and buyers could maximize the benefits of a strong market," Mr. Otton said in an interview.
"Getting houses at a bargain price and without paying stamp duties means more savings for the buyer. Sellers, on the other hand, could let go of their properties easily with the high demand from right buyers, while earning cash flow from the deal," according to Mr. Otton.
Mr. Otton reminded his listeners that creative real estate processes work in both strong and weak markets because it doesn't depend on the traditional methods of financing, instead it relies on existing debts to get home buyers into a house in a fast and easy manner.
"Aside from that, buyers and sellers of Hobart real estate can choose from a range of strategies that they can apply in different problems and scenarios. There is no single solution for one problem, that's why people have the opportunity to create flexible payment terms that benefits all the parties involved," Mr. Otton explained.
"The events after the financial crisis demand a new standard for real estate processes. A standard which can work not only in favourable market conditions, but also in times of crisis," he added.
Learn more about investment property tips for beginners with Rick Otton's live real estate seminar in Hobart on 27 August. Registration is free so log on to http://www.howtobuyahouseforadollar.com/.
About Rick Otton
Rick Otton has spent decades making money by snapping up inexpensive real estate and putting it to work building wealth, and teaching others to do the same.
He is the founder and CEO of We Buy Houses, which operates in the US, UK, Australia and New Zealand, and through this business he puts his strategies to work every day.
Mr Otton received his start in alternative real estate investment in 1991 in the US, and within a year acquired 76 properties. In subsequent years, he made a fortune using his low-risk, high-reward strategies to inexpensively acquire real estate. He continues to do so.
As well, Mr Otton travels between his home in Australia, and the UK, sharing his wisdom and teaching others how to buy and sell real estate, free from the constraints imposed by traditional lenders.
In 2013, Rick is celebrating the 10 year anniversary of introducing his property option strategies to real estate investors in the United Kingdom – the first person to reveal these ground-breaking strategies. In 2008, he created the first of his 'Houses for a Pound' strategies, upon which he grows as markets and laws evolve.
Mr Otton has been featured in a variety of television programs and magazines and in 2013, he published 'How To Buy A House For A Dollar' for the Australian market. This book has been named in the list of the Top 10 Most Popular Finance Titles for 2013, as voted by Money Magazine and Dymocks Book stores. A UK version is on the drawing board.
For full details of Mr Otton's upcoming 'How to Buy a House for a Dollar' seminars in major cities across the nation, visit HowToBuyAHouseForADollar.com or phone in Australia 1300 888 450.
For general information about Mr Otton, visit http://www.RickOtton.com.