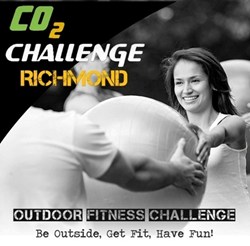 CO2 Challenge is still a fitness challenge, but it's fun and it's for real everyday people
Richmond, VA (PRWEB) August 14, 2013
CO2Fit announces their CO2 Challenge will take place on August 18th. The CO2 Challenge is a team competition where two-person teams participate in friendly competition of solving riddles and completing different fitness challenges.
"A typical "CO2Fitter" is fun, fit, and real. So we wanted to come up with an activity challenge that reflects our CO2Fit personality. CO2 Challenge is still a fitness challenge, but it's fun and it's for real everyday people," stated Seo Kelleher, founder and owner of CO2Fit.
The CO2 Challenge is unique compared to any other mud race or color run because it is something everyone can do. All that is required to participate is a teammate and the willingness to have fun. Previous challenges have included hoola-hooping, water slides and monkey bars. Coaches are also at every station to motivate and challenge each competitor.
Participants will have to use their wits and fitness to complete each task. Competitors will need to strategize and plan routes, decide when to skip difficult tasks and be able to choose which team member will compete at each station.
Every option is given for each participant to challenge themselves safely. The competition is friendly (not vicious) for just bragging rights and small prizes. Children older than 13 years old can participate as a team mate with a parent's consent/release form. Each workout is led by certified instructor or trainer to ensure proper technique. The energy and social aspects of the challenge with the coach, the team mates, and other teams in competition can all benefit the participants to stick with their health and fitness goals.
At the end of the challenge, participants would have completed about half an hour of full body cardio and strength workout that may have included some running or walking, and other total body workout incorporating no or some equipment.
To register for this event, please visit: Co2challenge-august.eventbrite.com. The location sponsor for the August challenge is Midlothian Athletic Club. Can't make it on the 18th? The next CO2 Challenge is on September 8th, register here: co2challenge-septemeber.eventbrite.com
For more information, please visit: co2fit.com
About CO2Fit:
Established in 2012, CO2Fit is located in Richmond Virginia. Founded by Seo Kelleher, CO2Fit aims to help all people reach their health and wellness goals. Here at CO2Fit, we acknowledge that everyone's road to fitness is different and unique. We aim to find the best workout and health routine for every client, whether it is yoga, kickboxing, group classes and more! For more information please visit: co2fit.com