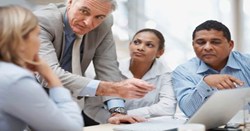 Macartan Mulligan, Co-Founder of NoBullying.com "Bullying is no longer children based, employees, teachers, parents and people from all ages and paths of life are being bullied on daily basis. This needs to stop with awareness and education and a fi
London, UK (PRWEB) August 14, 2013
NoBullying.com releases today an article on the rising trend of Workplace Bullying.
The article defines all the aspects of Workplace Bullying as a rising alarming trend and lists ways to find out if someone is bullied at work as well as ways to fight bullying at work without jeopardizing someone's career.
Workplace Bullying, according to the article, is not solely having a bad atmosphere at work but can come in several forms. Examples of them are Verbal abuse such as insults to someone's race, gender, sexual orientation, religion or just about anything else, Humiliation in front of other workers or clients, Damage to computers, vehicles, clothes or equipment so that an employee cannot get tasks done on time or Cyber bullying, where threats come through email, text messages or faxes.
Workplace Bullying can be stopped through various means, all listed in the article, such as confrontation, documenting all workplace bullying incidents and other ways.
The article comes out in an endeavor to define workplace bullying extensively because education is the first step to combating bullying correctly.
Macartan Mulligan, Co-Founder of NoBullying.com , said "Bullying is no longer children based, employees, teachers, parents and people from all ages and paths of life are being bullied on daily basis. This needs to stop with awareness and education and a firm collective stand."
He added that parents and teachers should make a point to educate the younger generations about the sad outcome of bullying online and off line.
NoBullying.com features many pages dedicated to parents, teens, teachers, health professionals as well as posts related to cyber safety and the latest news about law making concerning curbing Bullying worldwide as well as inspirational Bullying Poems and [Bullying Quotes.
The website makes a habit of updating its bullying statistics and cyber bullying statistics regularly because it is essential to understand how widespread the bullying epidemic is.
He also added that anyone suffering from bullying in any form or way can always reach out to the team of NoBullying and they will be given advice on how to stand up to bullying or protect themselves online.
The founders of the website hope that viewers can truly learn about bullying definition as well as school bullying and workplace bullying and put a serious effort to making it stop by education and caution and not by violence. NoBullying.com is not a mere website but an actual movement against bullying.