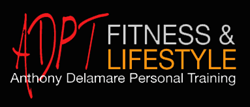 "That's why it's called 'personal training.' It shouldn't be one size fits all."
London, UK (PRWEB UK) 14 August 2013
Personal Trainer Anthony Delamare proves his success on his new video, http://www.youtube.com/watch?v=BsTFIJil7OI, interviewing real clients about their successes. One example: As personal trainer to Bromley's Clare Wilson, she was able to lose 2 stone in 30 days through his complete fitness and nutrition plan.
"I am very proud of all of these folks. One that stands out for me is Mark Waterman. He hired me as his personal trainer in his Chislehurst gym. He lost 35 pounds in just 8 weeks.
"Getting slim and in better shape is not about vanity; I want to people to live better, healthier lives for years to come." – Anthony Delamare, Personal Trainer, Petts Wood and south east London.
Through a comprehensive eating and exercise regimen, Anthony Delamare has been able to help hundreds of Londoners achieve the fitness success that they seek. Because his training is customised for each individual, exercises, diet, and motivations are personal.
As Anthony is fond of saying, "That's why it's called 'personal training.' It shouldn't be one size fits all."
"I struggled to succeed. I was working out twice a day and still not seeing the results I wanted. Then I asked Anthony to be my personal trainer in Orpington at my home. It was amazing. I was in my own home, where I was comfortable. I started seeing results in a couple of days and I lost 2 stone in 28 days." – Helen J.
Anthony Delamare did not start out as a typical personal trainer, a school athlete with a passion for fitness. He was overweight, a bit sickly and headed down a road to diabetes and other fitness and food related diseases. It was his personal journey to health that brought him to become fitter. And it is his commitment to saving others from these illnesses that caused him to become a personal trainer.
If you would like more information about this topic, please contact Anthony Delamare at 07791471436 or email at Pt82ad(at)yahoo(dot)co(dot)uk.