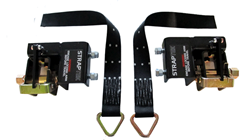 StrapTek is a safe alternative that also provides superior sway control.
Elkhart, Indiana (PRWEB) August 13, 2013
Lippert Components, Inc. (LCI™) introduces StrapTek™, an innovative new weight distribution product that employs a ratchet winch and heavy-duty polyester straps instead of traditional chains and snap-up brackets. StrapTek allows users to safely and easily adjust weight distribution spring bars on travel trailer RVs and cargo trailers with a standard socket wrench.
"Like other RVers out there, hooking up my weight distribution system made me anxious," said Product Developer Dave Gramlin. "I was tired of dealing with noisy, cumbersome and potentially dangerous chain systems that sometimes left me with bruises."
Traditional chain systems can require raising and lowering the tow vehicle with a jack over and over to get the right tension. StrapTek adjusts by simply tightening or loosening the straps using a standard socket wrench, saving time and energy.
"StrapTek is a safe alternative that also provides superior sway control," added Gramlin.
StrapTek integrates easily with most weight distribution hitch systems on the market and is available in a fully integrated OEM version as well as a "universal-fit" aftermarket kit. In addition to the towing benefits and easy hookup StrapTek provides to the end user, the OEM version provides manufacturers another unique benefit.
"Because of the fully integrated OEM design, manufacturers no longer need to leave open space on the draw bars to accommodate aftermarket bracket systems," said LCI Vice President of Sales Andy Murray. "This gives OEMs more freedom on placement of LP tanks, battery trays, spare tires, etc. We believe this is a significant benefit and know our customers will find innovative ways to take advantage of this added flexibility."
About Lippert Components™:
Lippert Components, Inc. (LCI™) and Kinro, Inc., its sister company, subsidiaries of Drew Industries Incorporated (NYSE:DW), are industry leaders in a broad line of products dedicated to improving the mobile lifestyle. LCI and Kinro supply a broad array of components for RVs, manufactured homes, modular housing, truck caps and buses, as well as for trailers used to haul boats, livestock, equipment and other cargo, including chassis, fabricated steel chassis parts, slide-out mechanisms, axles, upholstered furniture, mattresses, windows, doors, leveling and stabilization equipment, suspension enhancement products, electronics, thermoformed products, awnings and aluminum extrusion products.
Lippert Components, Inc.
3501 County Road 6 East
Elkhart, IN 46514
574-535-1125