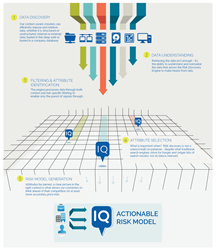 The Risk Discovery Platform delivers valuable insight into customers. Insight that creditors and lenders could not achieve elsewhere.
Toronto, ON (PRWEB) August 13, 2013
OutsideIQ, a leader in Big Data-based search based applications, today released its latest suite of applications designed to highlight risks through the use of unstructured Big Data. Lenders and creditors need richer, timelier and more accurate views into their commercial risks beyond what is available through traditional credit bureaus. OutsideIQ's latest applications help leverage both proprietary as well as public data to make more accurate decisions.
The new solutions (OutsideIQ for Commercial Credit and OutsideIQ for Banking Fraud) are built on OutsideIQ's Risk Discovery Platform™ – a patent-pending technology platform designed to discover, assess, and disseminate information from structured and unstructured data. OutsideIQ's Risk Discovery Platform™ is a proven solution already in use with many major insurance carriers where it delivers significant business value in helping reduce loss ratios.
"We're extremely excited to be launching our newest suite of applications ahead of schedule in response to market demand," explains OutsideIQ CEO Dan Adamson. "The team has worked very hard to put this suite of applications together and we're already seeing dividends with a leading chartered bank as a customer and a multi-billion dollar financial services company as a partner."
The new solutions are derived from industry-specific data models that leverage complex algorithms and deep-web search to detect and extract relationships between companies, principals and credit events. The applications are designed to organize and extrapolate key information from diverse sources to help identify potentially fraudulent behavior or key unstructured attributes that correlate to credit risk, information that creditors would otherwise miss using internal or trade data.
"Our banking and lending clients really drove the development of these applications," adds Chief Revenue Officer Jeff Watts. "They saw the platform's potential to deliver valuable insight into their customers that they simply could not get anywhere else. Because of the scalability and adaptability of the architecture, we were able to create this solution specifically for their credit and lending businesses very rapidly."
OutsideIQ solutions are designed to extract meaning from Big Data. Financial Services companies across North America use the applications at various levels of their organizations to manage risk, lower default rates, drive revenue, and increase profitability.
About OutsideIQ
OutsideIQ is a Search-based Application (SBA) company focused on using Big Data to discover and understand risk. The company's proprietary, patent-pending technology platform allows enterprises to make sense of vast amounts of disparate, previously inaccessible information. OutsideIQ's Risk Discovery Platform™ applications equip financial services organizations with highly relevant data for strategic and operational decision making.