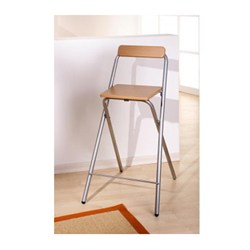 (PRWEB UK) 13 August 2013
FurnitureInFashion, one of the leading suppliers of contemporary furniture in the UK, is pleased to announce its sale of Folding Bar Stools to Crystal Waters Ltd. Crystal Waters specializes in quality English and Continental seafood. They prepare a range of superb fish and seafood, including haddock, kippers, hot roast salmon, prawns and monkfish. The family run business with its traditional smoking methods brings out the best in maritime flavor. Top restaurants and cookery schools in the UK are supplied by Crystal Waters. This link-up has been very beneficial for FurnitureInFashion as the company has made its presence further felt with commercial organizations. Recently, the company has been able to establish a significant name with such companies, by supplying some of the best furniture available in terms of quality, style, functionality and price. This folding Bar Stool is another addition to FurnitureInFashion's success story.
Homeowners who want a modern lifestyle, featuring contemporary furniture will surely love this Folding Bar Stool for their home-bars or simply for use as extra seating. The bar stools is ideal for the backyard, café, bar and restaurant. With its stylish finish and modern design, it is not only appealing but very functional.
"This bar stools bring something unique to the market. It is an incredibly durable and flexible solution in a busy world. It can quickly and easily be installed and moved, which provides customers with a high level of space optimization and flexibility," explains the CEO and Managing Director of FurnitureInFashion.
With both an elegant and comfortable design, this bar stool is ideal for creative meeting rooms, canteens, entrance areas and cafes. The recognized space saving qualities of the bar stool give it great potential. "This Folding Bar Stool version has great potential and we expect a lot from it. It has a classy and simple design with a unique folding capacity. In addition, these bar stools can assist organizations and companies in applying a consistent design in all parts of the company: this can have a positive influence on their brand image," explains the CEO of FurnitureInFashion.
Thanks to the popularity of Italian design concepts, there have never been more ranges of stunningly designed bar stools available. FurnitureInFashion specializes in bar and restaurant furniture, selling chairs, tables and bar stools. Their in-house production team fuses Italian design concepts with meticulous German manufacturing processes. Today the company has a well-established showroom in Bolton and an interactive website for online selling. They strive to offer a wide selection of high quality commercial and contemporary pieces at affordable prices.
To have a look at quality affordable furniture online and to place a pre-stock order, please visit the company website today at http://www.furnitureinfashion.net. The range of home and office furniture on the website is huge, delivery is fast, savings are massive and quality is guaranteed.
About FurnitureInFashion
FurnitureInFashion is a UK-based online retail business. It supplies furniture from its German-based warehouse and has a showroom in Bolton, UK. The company provides everything from umbrella stands, wall art and room dividers, to bedroom suites, bar stools, and computer tables. FurnitureInFashion offers free delivery within the UK and is rightly proud of its excellent customer service. For further information and details about sales, please visit http://www.furnitureinfashion.net .