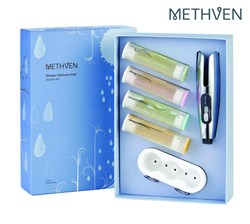 (PRWEB UK) 19 August 2013
tradeplumbing.co.uk, one of the UK's largest independent bathroom retailers, is pleased to announce it is now stocking the Shower Skincare Pod starter kit from Methven, designed to create a luxurious showering experience for all.
The Shower Skincare Pod comprises a range of conditioning New Zealand botanical extracts and aromatherapy oils, including jasmine, grapefruit and pomegranate and green tea and peppermint, to condition and soften the skin while showering. The oils are dispensed via the shower hose and through the shower head from a easy-to-install pod that connects to the water outlet with a short hose.
The Pod is easily operated with a slide control that ensure you only use the amount of oils that are needed and when in the off position the skin conditioner will not flow into the shower water.
The starter kit comes with everything needed to connect the Pod to a rail shower system, adaptors for other showers can be purchased separately. The skin conditioning cartridges can last up to four weeks depending on how many people are using them and how often.
Murray Wilson, Managing Director at tradeplumbing.co.uk comments, "Having tried and tested this fantastic Shower Pod from Methven, we can thoroughly recommend it to anyone who is looking for the ultimate in luxurious showering. The Pod is easy to connect and install and is turned on and off with the simple and easily accessible switch. Methven have a proven track record for creating innovative and quality products and we are proud to have been selected as an official stockist of their products."
tradeplumbing.co.uk has been trading online since 2006 and was launched as a result of the emerging eCommerce trend and the owner's family history in the field of running Plumbing and Heating Merchants and Showrooms. tradeplumbing.co.uk provides its customers with a wide selection of taps, bathroom suites and excellent customer service.