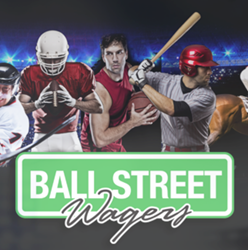 Las Vegas, NV (PRWEB) August 15, 2013
Sports betting expert The Sharp from Ball Street Wagers today commented on news reports that New Jersey appears to be on the verge of becoming only the second state to allow legal sports betting.
"Las Vegas has held a monopoly on legal sports wagering in the United States forever," sports book insider The Sharp said. "If and when this gets passed in New Jersey, east coast sports gamblers will no longer have to fly across the country to place a legal sports bet."
Sports lines expert The Sharp noted that the recent Las Vegas Review Journal Story reported that William Hill U.S., the Las Vegas-based subsidiary of Britain's largest bookmaker, plans to build a Vegas-style sports book at Monmouth Park in New Jersey if the law passes. Gaming expert The Sharp says that a New Jersey referendum legalizing sports betting is being challenged in federal court by the four professional sports leagues and the NCAA. When the law passes, it is reported that William Hill will operate the New Jersey sports book, where customers will pick NFL games against the spread.
Sports book insider The Sharp notes that with the remarkable success rate of the TruNUmber system he developed and publishes with Ball Street Wagers, he welcomes more legal sports betting opportunities in the United States, and plans to spend some time himself at Monmouth Park as soon as the sports book opens.
"Let's see how much Monmouth Park and other legal sports betting establishments in New Jersey like the TruNumber system and paying out tons of money to my friends and followers once this law passes," The Sharp noted.
About The Sharp:
The Sharp is a long time sports book expert and an expert on sports betting lines. While he keeps his identity concealed, The Sharp is rumored to have an Ivy League education and to have won several national handicapping competitions. The Sharp is the resident sports and horse expert at Ball Street Wagers and the architect of the Tru Number system. For more information, visit the website at Ball Street Wagers.
Ball Street Wagers and The Sharp are represented by Silver Visibility, an international PR agency.
Source: http://www.reviewjournal.com/business/casinos-gaming/william-hill-us-poised-sports-bets