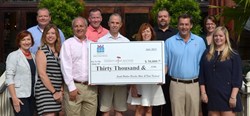 "I could not be more thrilled with the results. infinitee played an intricate part in helping us to exceed all our expectations for a successful event." - Stacey Brady, Director of Marketing and Public Relations for Grand Boulevard
Atlanta, GA (PRWEB) August 15, 2013
infinitee, a full-service marketing and advertising agency in Atlanta, GA was engaged to execute a strategic marketing and advertising plan for the 2013 South Walton Beaches Wine & Food Festival in Destin, FL held this past April.
Success of the advertising program required reaching affluent adults in potential feeder markets that would be interested in the event as well as the charity component benefitting the Destin Charity Wine Auction Foundation in Northwest Florida. From website development to collateral, infinitee promoted the unique identity for the festival which incorporated five very distinct wine personas. The personas were brought to life both online and in printed marketing materials for the festival including event brochures, tasting guides, animated banner ads and event signage.
A three-tiered media strategy combining digital display networks, an affluent website partnership and a paid Facebook campaign was implemented to effectively achieve ticket sales. A partnership with foodandwine.com was layered into the campaign for micro targeting of "foodies" and wine aficionados in surrounding markets. A paid Facebook advertising schedule was also integrated with behavioral and interest targeting to encourage Likes and social sharing. Lastly, a high-powered social media campaign was launched to further promote the event and drive ticket sales on four social platforms: Facebook, Twitter, Instagram and Pinterest.
The digital campaign produced over 5.5M ad impressions and 2,500 qualified clicks. The multi-channel media campaign, which started with no social presence, gained quality engagement: 3,353 Facebook Likes, 637 Twitter followers, 111 Instagram followers and 533 Pinterest followers.
Ticket sales exceeded all goals with more than 3,200 attendees and a total of $30,000 donated to Destin Charity Wine Auction Foundation that when distributed, will help 14 children's charities in Northwest Florida.
Stacey Brady, Director of Marketing and Public Relations for Grand Boulevard, said, "I could not be more thrilled with the results. infinitee played an intricate part in helping us to exceed all our expectations for a successful event."
For more information about infinitee, call 404-231-3481 to speak with Managing Partner, Jocelyn Smith, visit http://www.infinitee.com or find us on Facebook.
About infinitee
infinitee is a full-service marketing and advertising agency that understands how to improve brands, communications and customer experiences. With a focus on retail, real estate, B2B, destination marketing, education and financial services, their strategic and creative solutions build brand equity and drive sales for companies across all industries. infinitee's expertise has proven invaluable to national and southeast regional brands wishing to strengthen and grow their customer base, including: Tanger Outlet Centers, Cousins Properties, Parkway Properties, PM Realty Group, Athens First Bank & Trust, King's Ridge Christian School, Diversitech, and Royal Oak.
Through all facets of advertising, collateral, digital media, or brand strategy, infinitee keeps the work real, the relationship fun, the price right and the momentum high, as they go beyond client expectations. Let infinitee transform your communications.
About South Walton Beaches Wine & Food Festival
South Walton Beaches Wine & Food Festival is an annual charity event. The festival features a stunning showcase of the best wines the world has to offer. The Culinary Village presents the Savor South Walton Culinary Pavilion showcasing celebrity wine producers and chefs as they offer sumptuous arrays of foods to taste and wines to pair, as well as wine and food seminars and cooking demonstrations. The event is a major fundraiser for the Destin Charity Wine Auction Foundation, which benefits children in need in Northwest Florida. For more information, visit http://www.SoWalWine.com.
Festival partners included Destin Charity Wine Auction Foundation, Visit South Walton Tourist Development Council, Florida Restaurant & Lodging Association, Hilton Sandestin Beach Golf Resort & Spa, Wine World of Northwest Florida and Grand Boulevard at Sandestin®.
Contact: Jocelyn Smith
Founder, CEO
infinitee, Inc.
3400 Peachtree Rd., Suite 921
Atlanta, GA 30326
404-231-3481