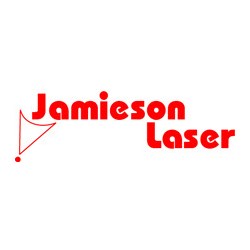 Litchfield, CT (PRWEB) August 13, 2013
With high precision and quicker production time, laser machines and systems have turned into an industrial manufacturing equipment staple and now have a greater presence in small business and personal applications. Throughout the field of laser systems, Jamieson Laser has become synonymous with high quality and low prices and now offers the latest laser cutters, engravers, and markers. The Litchfield, Conn.-based company began carrying such systems in 1988 and, for 2013, has been celebrating its 25th year as a seller of laser machines.
Jamieson Laser's history of offering these systems dates back to when a customer requested the company add a laser to one of its multi-station, high-precision machines. Since that point, two-axis laser cutting machines followed and eventually led up to the company's existing extensive line.
Jamieson Laser's current product line covers small- and large-format machines designed for cutting, marking, and engraving. Lasers are constructed in China through the country's most innovative, high-quality producers out of key components made in Germany and Japan. Without additional costs, each system includes all the essentials, such as a cutting bed, red dot pointer, air assist compressor, exhaust fan, and water cooler, as well as training and operating software.
Several sizes and types of machines and systems compose Jamieson Laser's product line. Table top systems offer a size well-suited to small companies or businesses with limited production, while LG machines handle unlimited length materials. Other systems include large-format laser machines, the CMA model for sheet work, and CMA-F for roll materials. The newer YAG laser systems, or Direct Metal Marking Machines, provide the strength for low and high production amounts of metal and plastics.
The company aims to match businesses of all kinds with laser systems suited to their specific needs. This ranges from large-scale engraving to marking trophies to cutting fabric, metal, wood, or plastic. When aligning a business with the right machine, Jamieson Laser takes into account the company's nature or objective, materials, and workload.
Throughout its history as a laser machine provider, Jamieson Laser has become known for competitive pricing. Two-year parts and one-year laser tube and optics warranties support all products, and pricing begins under $7,000. Customers further have the option of free training for all machines. Without a limit on the number of classes, this feature allows owners and operators to feel comfortable with and to understand how to operate and maintain Jamieson Laser's products.
Along with competitive prices and quality products, Jamieson Laser strives to offer every customer personal yet still professional service, and provides monthly specials and leasing options. Press release services and search engine optimization provided by Keyword Performance.