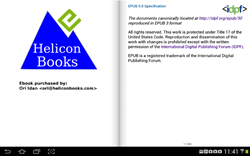 (PRWEB) August 20, 2013
Helicon Books, an ebook technology and services company from Israel, announces a new service for publishers: Social DRM. This service will be announced during the upcoming Frunkfurt Book Fair on October 9-13. Most publishers complain about high DRM prices, the fact that DRM is not a real protection, and that it punishes the legal buyer. Social DRM is a solution for publishers who wish to protect their ebooks and prevent copyright violation at reasonable prices.
How does it work?
Social DRM identifies the end costumer, "the buyer", by stamping the book with the buyer's name. The visual information can appear in text or an image, according to the publisher's needs. One creative way to present Social DRM is through a personal dedication from the buyer to someone he wishes to give the ebook. The Social DRM is also hidden inside each chapter in the ebook. This hidden information can only be recognized by a software.
Social DRM intends to prevent end customers' use of an ebook in an illegal manner. When the digital book is personalized and stamped with the customer's name, it will prevent him from uploading the book to file share sites and/or sell it. The inner hidden social DRM is for the publisher's own knowledge to recognize his ebooks through the cloud.
Can Social DRM be removed?
In order to remove Helicon Books Social DRM, the remover must have an intimate knowledge of the EPUB standard and a knowledge of the specific algorithm used by Helicon Books. So, it is theoretically possible, but not easy to remove all traces of the Social DRM, specifically the hidden social DRM that is embedded in many places in the eBook.
Which type of formats does it support?
Helicon Books Social DRM currently supports only EPUB ebooks.
What is the difference between Social DRM and Watermark?
A watermark is a visual stamp of the copyright owner on the entire image. It makes the image unusable and thus prevents copying. When a customer wishes to buy an ebook, he buys it for his own use.
Watermarking would prevent him from using the book. Contrary to that, the Social DRM adds the buyer's name to a separate page or on the copyright page. Social DRM does not interrupt reading, but rather identifies the customer to prevent copying.
About Helicon Books
Helicon Books is a services and technology company assisting publishers in introducing and adopting advanced technologies for digital books.
See us at the Frankfurt Book Fair: Hall 8 F46.
For more information, please visit us at http://www.heliconbooks.com/