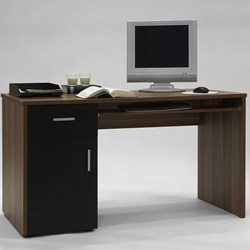 (PRWEB UK) 14 August 2013
Specializing in contemporary functional office furniture, FurnitureInFashion has sold its highly versatile and compact Finn Black Computer Desks to ICT Educational Services. FurnitureInFashion is one of the leading suppliers of contemporary furniture in the UK. The company maintains an extensive catalogue of office furniture. The office furniture offered by FurnitureInFashion include glass, wood, high gloss, and corner computer desks, Complimenting these styles are cabinets, office chairs, tables, accessories and shelving. In addition FurnitureInFashion offers designer furniture office collections that offer solutions to all office needs at very affordable price. Finn Black Compact Computer Desks are ideal for both desktop and laptops computers. Finn computer desks are available both in black and brown.
The Finn Black Compact Computer Desks bought by ICT Educational Services are in a black finish. The Finn computer Desk has a stylish contemporary design with a convenient sliding keyboard shelf, allowing keyboard positioning for the comfort of the user. This computer desk has one drawer and one door for storage. The storage is large enough for users to keep files, CDs and PC peripherals in these areas of the desk. This compact workstation is available in a Plumtree black finish. The computer desk has a melamine surface which offers the ultimate protection against scratches and heat. It is a perfect computer desk for either home or work, with lots of space to position a computer and its related accessories. It is an excellent solution for every workstation requirement. This compact computer desk has been manufactured by fusing Italian design concepts with German manufacturing processes. With a width of 135cm, a depth of 63.5cm and a height of 75.5cm, the Finn Compact Computer Desk is a perfect solution for students at home or school and for employees at work.
The CEO and Managing Director of FurnitureInFashion said, "The Finn Compact Computer Desks offered by FurnitureInFashion come in a variety of sizes. This allows customers to choose the one that best suits their office or home space. Larger furniture is available for managerial and executive offices. Such office furniture can be matched with the beautiful bookcases offered by FurnitureInFashion, a real boon in helpful storage solutions."
One of the great attractions of this desk is its versatile minimalist design, allowing it to be turned around in order to position either laptops or desktops. It is also ergonomically designed, which gives greater physical comfort to users, especially in those long work or study sessions. This compact computer table can be both easily installed and moved when needed. It encourages better posture, preventing strain on the back, neck and shoulders.
The CEO further added that customers who are looking for a minimalist stylish design and high functionality in computer desks, should really explore the Finn Black Compact Computer Range and the other ranges offered by FurnitureInFashion. For residents of the UK, the added advantage of buying furniture from FurnitureInFashion is a cost free home delivery service.
To have a look at quality affordable furniture online and to place a pre-stock order, please visit the company website today at http://www.furnitureinfashion.net. The range of home and office furniture on the website is huge, delivery is fast, savings are massive and quality is guaranteed.
About FurnitureInFashion
FurnitureInFashion is a UK-based online retail business. It supplies furniture from its German-based warehouse and has a showroom in Bolton, UK. The company provides everything from umbrella stands, wall art and room dividers, to bedroom suites, bar stools, and computer tables. FurnitureInFashion offers free delivery within the UK and is rightly proud of its excellent customer service. For further information and details about sales, please visit http://www.furnitureinfashion.net .