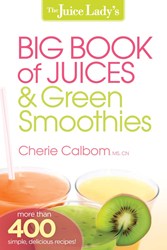 Santa Fe, NM (PRWEB) August 13, 2013
In 2013, food and nutrition is a sexy, dangerous, controversial and political subject. New York City just ushered in its 'Fruit and Vegetable Prescription Program." Farmers Markets are becoming Pharmacies. Consuming more fruits and vegetables is a great idea for everyone, but how do busy people get enough produce to make a difference in their health? Cherie Calbom, MS, CN – The Juice Lady – simplifies the pursuit of simple, nutritious goodness with her new book, "The Juice Lady's Big Book of Juices and Green Smoothies," which is full of juicing tips, tricks and recipes.
"Some people are calling for rebranding heavily processed food, suggesting much of it should be called 'edible, food-like substances;' I think many people are just sick and tired of uncovering new things that are wrong with what they put in their body," says Calbom, a juicing icon and pioneer who says food has become an even more touchy subject since she started her career as The Juice Lady 21 books ago.
"Whether you're a vegan, an Atkins dieter, a raw foods fan, a 'flexitarian' or an out-of-the-closet junk-foodie, juicing offers a simple and reliable shot of healthy goodness – vitamins, minerals, phytonutrients, enzymes, and biophotons – that you might not otherwise get."
After writing and advocating for the health benefits of the practice, The Juice Lady continues her efforts with this latest book so that readers may bring their blenders or juicing machines into the 21st Century with the most updated versions of delicious recipes that work– in terms of both healing and taste. The refreshing beverages enhance energy and boost one's mental and physical life. Calbom's book features more than 400 simple recipes, including vegetable and fruit juices; healthy green smoothies; juice remedies and rejuvenators; and unique gourmet juice blends, among other concoctions.
"I bought a juicer about a year ago, and, to be honest, it rarely got used. That has all changed now... The author is a clinical nutritionist who dealt with numerous illnesses in the past," writes Amazon reviewer Athena, who gave the book five stars. "…I think my favorite part of the book is the chapter titled 'Juice Remedies and Rejuvenators.' This chapter has recipes to help with all different ailments/problems such as 'Allergy Remedy' and 'Hypertension Helper.' What a help to be able to grab this book and find a natural remedy to your problem."
About Cherie Calbom, MS
Cherie Calbom, MS is the author of 21 books, including the best-seller "Juicing for Life," with 2 million copies sold in the United States and published in 23 countries. Known as "The Juice Lady" for her work with juicing and health, her juice therapy and cleansing programs have been popular for more than a decade. She holds a Master of Science degree in whole foods nutrition from Bastyr University. She has practiced as a clinical nutritionist at St. Luke Medical Center, Bellevue, Wash., and as a celebrity nutritionist for George Foreman and Richard Simmons.