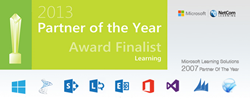 Those organizations that want to switch to the software supported Windows 7 or Windows 8 for operating efficiency or security issues can do so with confidence with the right training that gets the system upgrade quickly and effectively
New York, NY (PRWEB) August 13, 2013
In the light of Microsoft's decision to retire Windows XP after 11 years in the marketplace, organizations need to be thinking about upgrading their operating systems to Windows 7 or Windows 8. NetCom Learning, the leader in business and IT training, can make the transition seamless with the training your staff needs to have the system functioning optimally as quickly as possible. NetCom Learning was recently selected as 2013 Microsoft Learning Solutions Partner of the Year finalist and in 2007 received the Microsoft Learning Solutions Partner of the Year award. The organization can provide top training in Windows 7 and Windows 8 in a variety of training solutions such as standard training, boot camp training, and customized training. All these solutions can be delivered in traditional classrooms, on-site training or Live Online from anywhere.
"Those organizations that want to switch to the software supported Windows 7 or Windows 8 for operating efficiency or security issues can do so with confidence with the right training that gets the system upgrade quickly and effectively," said Russell Sarder, CEO of NetCom Learning. "With training from NetCom Learning, organizational management can rest easy that their IT staff will be able to transition the operating system with ease and quickly utilize the full functionality of the Windows 7 or Windows 8 operating systems," said Sarder.
Reasons to Switch Now
It is estimated that Windows XP is the operating system for more than 39% of the computers operating on a worldwide basis, which, according to Reuters, translates to 500 million people across the globe with XP running on their computers. Come April 8, 2014, those operating systems will no longer be supported by Microsoft. This means there will be no more security updates for Windows XP from Microsoft and no further software support. This leaves organizations still using Windows XP with a variety of possible business implications including compliance issues, security risks, and possible down time when there are issues with the operating system. Windows 7 and Windows 8 also offer major improvements in the operating systems in terms of flexibility, productivity, mobility, and security providing employees with the operating systems that allow them to accomplish more and be more productive and efficient. This efficiency and new functions can help grow a business through improved customer support and new options in organizational communications and the sharing of information.
Savings Programs
NetCom Learning offers savings programs which provide different options for both organizational and individual clients to economically obtain the training they need.

Learning Voucher Pass is available to help organizations and individuals manage their training budget on a per day basis.
Learning Saving Pass provides flexibility and helps extend an organization's training budget: an organization prepays for training needs then NetCom Learning provides matching funds up to 100% based on the size of the purchase.
Learning Course Pass gives organizations the flexibility they need to get their staff trained in an economical manner that comes with customized reporting capabilities to track training expenditures and progress.
Your Course Registration = One Child's Education
The Love of Learning program is all about helping children to further their education, a goal which is close to the heart of the company's CEO Russell Sarder. NetCom Learning has partnered with BRAC USA to create this program that gives back to the community. The Love of Learning program is also a central part of the company's purpose to promote lifelong learning. The funding for the educational program comes from NetCom Learning donations based on the number of prepaid class registrations. Since the inception of this program, NetCom Learning has already helped sponsor hundreds of children's education. This year, the Love of Learning Program is in the process of opening thirty pre-primary schools around the world.
Benefits of Microsoft Training with NetCom Learning
NetCom Learning is the top US finalist for 2013 Microsoft Learning Partner of the Year and in 2007, the company was chosen as winner of Microsoft Learning Partner of the Year from a pool of 1400 training companies. NetCom Learning is also a Microsoft Gold Certified Partner for Learning Solutions (CPLS). NetCom Learning instructors who routinely achieve high ratings from their students possess an average of 16 years of experience and a cumulative average of more than 10,500 years' experience in the field of their expertise. Instructors carry an average instructor evaluation of 8.6 out of 9, one of the highest instructor evaluations in the industry. The high quality of training has resulted in over 2,000 testimonials and a 96% customer satisfaction rate with those customers indicating they would recommend NetCom Learning to others.
Upcoming Windows OS Training
September 9 - MCSA: Windows 8
September 9 - MCTS and MCITP: Windows 7 Configuration and Desktop Support Technician – Accelerated
September 9 - MCITP: Windows 7 Enterprise Desktop Support Technician
September 16 - MCTS and MCITP: Windows 7 Configuration and Desktop Support Technician - Boot Camp
September 23 - MCSA: Windows 8 Boot Camp
September 23 - MCITP: Windows 7 Enterprise Desktop Administrator
November 11 - MCSA: Windows 8
November 11 - MCTS and MCITP: Windows 7 Configuration and Desktop Support Technician - Boot Camp
November 18 - MCSA: Windows 8 Boot Camp
For more information on upcoming Windows Operating Systems training events visit http://www.netcomlearning.com/vendors/2/Microsoft-Technical-training.html?advid=412 or contact NetCom Learning at 888-563-8266 or email us here: info(at)netcomlearning(dot)com.
Take a look at NetCom Learning's complimentary webinars on Windows Operating Systems:

About NetCom Learning
NetCom Learning is an innovative leader in IT, business and executive training to companies, individuals, and government agencies. Since its inception in 1998, NetCom Learning has trained over 80 percent of the Fortune 100, serviced over 45,500 business customers, and advanced the skills of more than 71,000 professionals through hands-on, expert-led training, with the organization maintaining an average instructor evaluation score of 8.6 out of 9. NetCom Learning was recognized by Microsoft Corporation as its Worldwide Training Partner of the Year and named thrice to Inc. Magazine's list of fastest growing private companies in America. The organization was also recently named to the 2012 Top 20 IT Training Companies by TrainingIndustry.com and was named "Company of the Year" by the American Business Awards.
The purpose of NetCom Learning is to promote the values of lifelong learning.