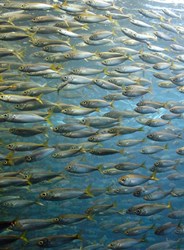 "We know that fish oil is an extraordinary nutrient, and I would suggest that fish oil is the most important thing anyone can take for their health." KC Craichy
Orlando, Florida (PRWEB) August 14, 2013
Well-known TV doctor, Dr. Oz, says krill oil is a great alternative to fish oil. "There is a lot of research out there that says krill oil may be a superior source of omega 3 than fish oil," Oz said recently on his television program. He said the research shows krill oil is absorbed faster, so it gets to the bloodstream faster where it can be used sooner by the heart and brain. Oz added that fish oils work, but because they take longer to get into the bloodstream they take longer to work. Another reason Dr. Oz said he prefers krill oil is that it is stronger because it includes astaxanthin.
Nutrition expert and best-selling author KC Craichy disagrees with Dr. Oz on this point. "I like Dr. Oz and believe that generally he is helping a lot of people," Craichy said, "but in this case I strongly disagree with his conclusion that shellfish oil is better."
Craichy pointed to the fact that fish oil has been in a supplement form for 150 years and has many scientific research studies behind it. "We know that fish oil is an extraordinary nutrient, and I would suggest that fish oil is the most important thing anyone can take for their health."
Craichy explained that fish is a triglyceride in its natural form. A lot of fish oils, super concentrated fish oils, are in ethyl ester form or re-esterified triglyceride, which means they take it out of triglyceride. They put it back into triglyceride form after breaking it apart, and concentrating it. So the studies are done with all three forms; triglyceride, re-esterified, esterified and then also phospholipid, which is the form that krill oil companies claim is the reason they're more absorbable. Craichy said the first question is does it really matter if it's absorbed faster?
"The short answer is not really because fish oil is not metabolized like that; because it's fat soluble it stays in your system for awhile," Craichy answered. "A lot of people will take one every few days or they talk about eating fish three times a week, because it doesn't metabolize like that."
Craichy added that even though it has not been proven that krill oil absorbs faster, that is not the biggest issue. He said that concerns the amount of EPA and DHA you get from your omega-3 source. Craichy asked, "do you want 120+ milligrams EPA and 120 milligrams DHA in fish oil, or do you want the 50 milligrams EPA and 25 milligrams of DHA in a little red pill?"
Craichy said he looked at how much astaxanthin is in krill oil pills and it's listed as 120 parts per million. He called that a baby dose of EPA-DHA and astaxanthin. Craichy designed LivingFuel SuperEssentials Omega years ago which is the most sophisticated omega supplement on the market. "I have been a vocal advocate of the benefits of taking Astaxanthin and other powerful antioxidants along with fish oil for years," Craichy added, "but the trivial dose found in krill oil is barely enough to protect the high levels of free-fatty acids present."
Craichy explained that krill oil is only 40% phospholipid and 20 to 22% free fatty acids. "Now this is good and bad," Craichy said. "Free fatty acids unprotected will spoil in the gel cap or the liquid fish oil and also can spoil in the body. It's called lipid peroxidation and that's not a good thing."
Craichy said the real question now in science is whether the free fatty acids in krill oil are making them seem to be absorbed more quickly. He said it may be, but that the interesting part is what is the other 38 to 40% of krill oil? Craichy said it's basically triglyceride fish oil.
"So the thing that makes me the most upset about this," Craichy added, "is when this new entrant comes in the market and tries to tell you that what you're taking is not good for you, when there's 150 years of use and thousands of studies to tell you that it is in fact good for you; in fact you'd better be taking it."
Craichy also pointed out that because krill oil is a shellfish oil many Christians, Jews and Muslims will not take it because of their dietary laws. He also said that cost is a factor to consider. "You have to take a lot more than they suggest," Craichy said, "because you've still got to get the amounts of EPA-DHA that all the literature has been telling us about."
About KC and Monica Craichy
KC Craichy is the bestselling author of Super Health: 7 Golden Keys to Unlock Lifelong Vitality and The Super Health Diet: The Last Diet You Will Ever Need! KC Is also the Founder and CEO of Living Fuel, Inc.—The Leader in Superfood Nutrition. He is a health advocate, researcher, and recognized expert on natural health and performance nutrition. His extensive study of leading-edge health research and collaborative work with top medical and nutritional practitioners and researchers to solve his wife Monica's health problems—anxiety, depression, and suicidal thoughts—along with the grace of God, led him to the answers for Monica's healing and to the founding of Living Fuel, Inc. As a result of overcoming this health crisis, KC and Monica have helped numerous people become overcomers in their own health situations. Together, they are now cohosts of the popular Internet TV program called LivingFuelTV.
KC is committed to changing lives through multimedia, super health lifestyle education combined with super healthy, high impact superfoods. He also serves on the Nutrition Advisory Board for Titleist Performance Institute as well as on the Clinical Nutrition Review Board (the certifying body of the International and American Association of Clinical Nutrition). A frequent natural health and performance nutrition guest on various TV and radio programs as well as a frequent contributor to national magazines and blogs, KC lives in Orlando, Florida, with his wife, Monica, and their five children.