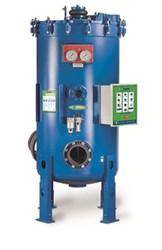 'As with most projects, the most important requirement is water quality,'says Michael Turner, Vice President of International Business Development for Neptune-Benson.
Coventry, RI (PRWEB) August 14, 2013
Neptune-Benson, a leading manufacturer of commercial pool filtration systems, ETS-UV disinfection systems, and Lawson Aquatics components, is a proud to be chosen to supply their award-winning Defender® aquatic filtration system to the Lotte World Gimhae Waterpark in South Korea.
For any installation of this size, water savings is a huge consideration; with a flow rate of 5,394m3 per hour it is crucial to use a water saving device. The Defender Regenerative Media Filter eliminates over 90% of the backwash water associated with sand filter operation. The dramatic reduction of backwash waste directly translates to savings in chemicals and fuels for reheating associated with make-up water. If Lotte World Gimhae had chosen sand filters, 33 would be needed to replace 20 Defender filters.
Lotte World is set to open in 2014 in Gimhae, near Busan, South Korea. The park will have both indoor and outdoor attractions all supported by 20 Neptune-Benson Defenders. Neptune-Benson Defender® was chosen for water quality as well as sustainability. By using Defender® there is 90% less water and waste, 30% less fuel and chemicals used, 75% smaller footprint as well as 50% less electrical power required.
"As with most projects, the most important requirement is water quality," says Michael Turner, Vice President of International Business Development for Neptune-Benson. "The Defender regenerative media filter was chosen because it constantly produces the cleanest and safest water available".
The Defender removes particles down to 1 micron or less.
About Neptune-Benson
Neptune-Benson is the leading manufacturer of filtration systems for aquatic centers, waterparks and aquatic life support. Featuring the award-winning Defender® Regenerative Media Filter, Neptune-Benson also offers steel & fiberglass sand filter systems; the AEGIS anti-entrapment shield; fiberglass movable bulkheads; Dominion butterfly valves; Guardian strainers and other accessory products. Creating the World of Aquatopia since 1956. See: http://www.neptunebenson.com/.
About Engineered Treatment Systems (ETS)
Based in Beaver Dam, Wisconsin, Engineered Treatment Systems LLC is a leader in the development and manufacture of UV systems, specializing in closed vessel UV technology. Our world class UV systems offer treatment solutions for a range of uses from recreational water to municipal and a wide variety of industrial applications. With advanced technology and a wealth of experience, ETS has the expertise to provide effective and cost efficient solutions for a broad range of industry needs. See: http://www.ets-uv.com/.
About Lawson Aquatics, Inc.
Founded 1994 as Grate Technologies, Lawson Aquatics was incorporated under its current brand in 2002 with a focus on meeting the design and functional requirements of rim-flow grating systems for commercial, institutional and luxury residential pools and aquatic facilities. The Lawson product catalog has evolved and grown over the years adding a wide variety of high quality PVC and fiberglass components including grating systems, main drains and sumps, and custom fabricated products. Today, Lawson Aquatics is the recognized leader in providing the global aquatic industry with complete, integrated main drain and rim-flow system components. See: http://www.lawsonaquatics.com/.