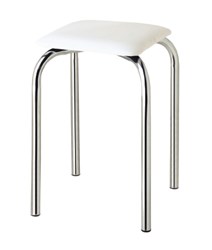 (PRWEB UK) 16 August 2013
Naked Communications, the prominent UK marketing agency, has purchased different models of White Stackable Stools from FurnitureInFashion. FurnitureInFashion is a UK based supplier of contemporary furniture and is well known for offering quality affordable furniture to both residential and commercial clients. The company has established a substantial position in the UK furniture market by targeting the right niche in both the commercial and residential markets. The company works with many well-known companies in the UK as a regular supplier of furniture.
Naked Communications has purchased three different kinds of stackable stools from FurnitureInFashion: Pak White Stackable Stools, Pakko White Stackable Stools and Pub White Stackable Stools. The Pak Stackable Stool is a fantastic piece of dining room or kitchen furniture. With four chromed steel legs and a comfortable padded square seat, the Pak is easily stackable: a real space saver! With its sleek design and contemporary look, this stool can enhance the look of any room, providing a chic stylish modern look. The Pak is also available in blue.
The wonderful Pakko Stackable Stool is a modern, creative and imaginative design, which suits all lifestyles, personal tastes and contemporary home décor. This bar stool is four legged. It has a comfortable cushion-padded square seat and comes in chromed steel. It is easily stackable, saving a lot of space after use. The generously upholstered cushioned white seat makes it a perfect comfortable seating option. It provides the ultimate sitting experience for any space. This stool is also available in blue.
The Pub White Stackable Stool is a perfect seating option for those relaxing moments with a cup of coffee, a favorite wine or a newspaper. With its four legs, chromed steel structure and upholstered seating, this stool is ideally suitable for all types of bars and kitchens. The stool has a comfortable round padded cushion seat and is easily stackable after use. This stool offers an outstanding classy option for extra seating in any space.
The CEO and Managing Director of FurnitureInFashion said, "It has been an honor for our company to be contracted by Naked Communications for such a bulk order. Our catalogue of stackable stools is extensive and offers many designs, colors and styles to customers, at very affordable rates. Customers who are looking for sleek minimalist stackable stools for limited spaces will be delighted by the ranges offered in FurnitureInFashion's catalogue."
He further added that the company offers an extensive range of bar stools in chrome, steel, aluminum and other materials. The company specializes in bar stools and bistro furniture and is one of the leading suppliers of bistro furniture in the UK. FurnitureInFashion offers a free home delivery service to residents of the UK. Customers may also visit the showroom of FurnitureInFashion in Bolton.
The spokesperson of Naked Communications appreciated the quality of stools bought from FurnitureInFashion and showed an intention to buy more furniture items from FurnitureInFashion.
To have a look at quality affordable furniture online and to place a pre-stock order, please visit the company website today at http://www.furnitureinfashion.net. The range of home and office furniture on the website is huge, delivery is fast, savings are massive and quality is guaranteed.
About FurnitureInFashion
FurnitureInFashion is a UK-based online retail business. It supplies furniture from its German-based warehouse and has a showroom in Bolton, UK. The company provides everything from umbrella stands, wall art and room dividers, to bedroom suites, bar stools, and computer tables. FurnitureInFashion offers free delivery within the UK and is rightly proud of its excellent customer service. For further information and details about sales, please visit http://www.furnitureinfashion.net.