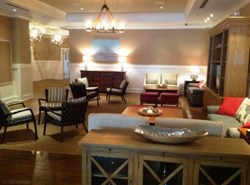 Guests can look forward to a new and improved Avenue Inn & Spa!
Rehoboth Beach, Delaware (PRWEB) August 13, 2013
Delaware's Avenue Inn & Spa has gotten better. With their recently completed renovations, Avenue Inn & Spa is poised to be the #1 hotel on the Eastern seaboard.
Already rated the #1 hotel in Rehoboth Beach, Delaware by Trip Advisor, Avenue Inn & Spa is a top Delaware beach spa hotel, allowing guests to unwind with spa services from Avenue apothecary & spa. They strive to provide guests with top-notch amenities including an extensive breakfast, complimentary wine and cheese in the afternoon, and fresh baked cookies served in the evening. These extra touches go hand and hand with Avenue Inn & Spa's great customer service and Delaware charm.
From top to bottom, guests can look forward to a new and improved inn and spa. Avenue Inn & Spa enclosed the upper level parking area into an expanded breakfast room, making mornings even more relaxing. Additionally, with the enclosure of the breezeway to Rehoboth Avenue, guests can begin the day with a scrumptious meal and take a leisurely stroll to the avenue, taking in the sights of The Diamond State.
Avenue Inn & Spa did not just renovate its mornings, it also restructured its evenings. The lobby bar is now known as the Lounge, and provides the perfect setting for guests to wind down and relax after an exciting day of sightseeing. Along with the redone lobby bar, there is now a large sitting area, two new restrooms, two new changing rooms with showers, a great business center with two computers, an expanded fitness room with all new equipment and the complete overhaul of the old lobby.
About Avenue Inn: While staying at the Avenue Inn & Spa you will be able to enjoy the many attractions available in Rehoboth Beach, Delaware. They are conveniently located one block from the boardwalk and the famous Delaware beach; this is in addition to being in walking distance from downtown shops, restaurants, and attractions. This has made the Avenue Inn & Spa the prime Rehoboth Beach lodging location for guests.