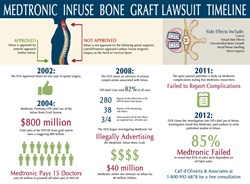 (PRWEB) August 16, 2013
In 2002, the FDA approved the Infuse Bone Graft for sale on the market by Medtronic. This device was only approved for use in particular procedures, the most common being Anterior Lumbar Interbody Fusion (ALIF) (i). However, it has been alleged that the company promoted this device for use in the cervical/neck area. Some patients have alleged that the device is responsible for abnormal, ecotopic, uncontrolled bone growth in this area. On May 31, 2013, Reuters reported that 37 plaintiffs had filed a lawsuit against Medtronic (David et al. v. Medtronic Inc., et al., No. BC-510542, complaint filed in California Superior Court on May 31, 2013). The plaintiffs allege that they suffered unwanted bone growth and nerve damage after the device was implanted in the cervical/neck region. The complaint also claims that the company paid significant fees and kickbacks to doctors causing an 80% increase in "off-label" use since 2002 (ii).
According to The Legal Examiner, on June 19, 2013, a California man filed a similar Infuse Bone Graft lawsuit seeking compensatory and punitive damages. The 85-page complaint alleges that he underwent a spinal surgery in September 2011 and soon developed serious bone overgrowth causing his nerves to compress. He claims the neither he or his doctor were aware that these injuries could occur. He has had to undergo several surgeries to correct his injuries (iii).
Attorney Paul d'Oliveira stated, "We've seen a number of these types of cases and more often than not the patient was not aware that the device could cause uncontrolled bone growth. What I find even more disturbing is that fact that doctors and medical professionals are reporting that they are unaware of these dangers. Patients need to know that when this device is implanted in the neck it can cause serious side effects difficulty breathing, speaking, and swallowing."
d'Oliveira & Associates is investigating cases of uncontrolled bone growth caused by the Medtronic infuse bone graft. The law firm is working with some of the more experienced medical device lawyers in the country and there are no fees unless a settlement or award is obtained. The firm's lawyers exclusively practice personal injury and disability law. Contact them by calling 1-800-992-6878 or submitting an online contact form.
(i) FDA Approval Information.
fda.gov/MedicalDevices/ProductsandMedicalProcedures/DeviceApprovalsandClearances/Recently-ApprovedDevices/ucm083423.htm
(ii) Reuters, June 21, 2013.
blog.thomsonreuters.com/index.php/medtronic-profited-from-improper-bone-graft-sales-california-suit-claims/
(iii) The Legal Examiner, July 31, 2013.
norfolk.legalexaminer.com/medical-devices-implants/ca-man-sues-medtronic-for-off-label-medical-device-use/