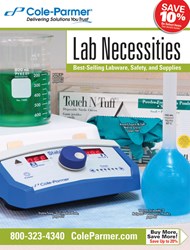 Vernon Hills, IL (PRWEB) August 12, 2013
From beakers to baths, the new Lab Necessities Catalog from Cole-Parmer features a large selection of supplies and equipment to keep labs running efficiently. Catalog customers stocking up on needed items can save more with volume discounts of up to 20 percent on select product categories.
In addition to annual favorites and stock-up supplies, the catalog debuts several new technologies for the lab including the IKA® EUROSTAR 20 and EUROSTAR 40 Digital Mixers. These maintenance-free, continuous-dry mixers are ideal for general laboratory use. The Cole-Parmer® Ultrasonic Cleaners feature high-frequency 40 kHz sound waves for greater cleaning power and enhanced reliability. The Thermo Scientific™ Barnstead™ Smart2Pure™ Water Purification Systems can be positioned on a lab bench or wall-mounted for space-saving convenience.
Find these and other key lab items in the 2013 Lab Necessities Catalog. To request a free copy, call 800-323-4340 or visit ColeParmer.com/20267.
Cole-Parmer has been a leading global source of laboratory and industrial fluid handling products, instrumentation, equipment, and supplies since 1955. Our product lines, including popular brand names such as Masterflex®, Oakton®, and more, are sold through company-owned customer channel outlets and a strong network of international dealers. We also feature an ISO-17025-accredited metrology lab for instrument calibration and repair. Cole-Parmer responds with excellence to customer needs, and offers application expertise and technical support. For more information, contact Cole-Parmer, 625 East Bunker Court, Vernon Hills, IL 60061. In the US, call 800-323-4340. International customers, call 847-549-7600. Visit us at ColeParmer.com.