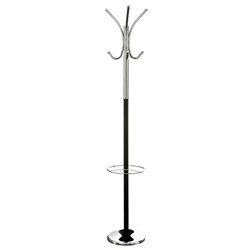 (PRWEB UK) 17 August 2013
Day to Day Ltd, one of the UK's leading construction consultants, has purchased innovative yet functional metal coat stands from FurnitureInFashion. FurnitureInFashion is one of the leading suppliers of contemporary furniture in the UK and is known for providing quality furniture at the most affordable prices. The company also maintains one of the UK's most extensive ranges of hallway furniture, including coat racks, coat stands, shoe storage cabinets, shoe racks, hooks and umbrella stands. Customers can either buy special integrated hallway furniture sets offered FurnitureInFashion's designers or they can mix-and-match from the extensive hallway furniture stock, customizing their entranceways in a unique individual style. FurnitureInFashion has sold many different metal coat stands to a wide range of commercial organizations as the company's offerings are of outstandingly high quality and durability.
Day To Day Ltd bought two types of coat metal stands from FurnitureInFashion: the Diamante Cream Metal Coat Stand and the Brown Metal Umbrella and Coat Stand. The Diamante Metal Coat Stand is available in a cream finish with stunning diamante detailing. On top of this coat stand, there are four large curved hooks, for hanging coats, hats and jackets. The lower section of the coat stand also has four hooks. These hooks can be used to hang all types of accessories and other items. This stylish metal coat stand is in a minimalist design, in order to make it practical for areas with less space. In a metallic and cream finish, this coat stand is available at an unbeatable price from FurnitureInFashion.
The Brown Metal Umbrella and Coat Stand bought by Day To Day Ltd has dual functionality. This stylish metal coat stand is available in brown and is specially designed for umbrellas. On the top section of the coat stand, there are four large curved hooks to hang coats, jackets and hats. The umbrella holder in the bottom section is not only ideal for storing umbrellas but for all types of accessories. With its slim design, this coat stand is practical for areas with less space. It adds an attractive elegant touch to any living room, hallway or office.
The CEO and Managing Director of FurnitureInFashion said, "The metal coat stands at FurnitureInFashion all have a firm, sturdy base and are free standing with a stylish top. Our metal coat stands are made of high quality steel which is corrosion free. Most of the metal coat stands have a solid base, along with an umbrella stand for extra accessories. Our company has sold more than 300 coat stands in the last two months. FurnitureInFashion feels proud that we were chosen by Day To Day Ltd to supply coat stands."
The spokesperson of Day To Day Ltd also showed her satisfaction with the quality of the coat stands and the service received. The spokesperson complimented the on-time delivery service of FurntiureInFashion and praised the fact that the company offers free of cost delivery service to clients based within the UK.
To have a look at quality affordable furniture online and to place a pre-stock order, please visit the company website today at http://www.furnitureinfashion.net. The range of home and office furniture on the website is huge, delivery is fast, savings are massive and quality is guaranteed.
About FurnitureInFashion
FurnitureInFashion is a UK-based online retail business. It supplies furniture from its German-based warehouse and has a showroom in Bolton, UK. The company provides everything from umbrella stands, wall art and room dividers, to bedroom suites, bar stools and computer tables. FurnitureInFashion offers free delivery within the UK and is rightly proud of its excellent customer service. For further information and details about sales, please visit http://www.furnitureinfashion.net .