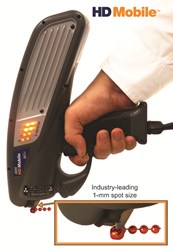 By implementing HDXRF we have been able to reduce our overall testing costs without compromising product safety and compliance.
East Greenbush, N.Y. (PRWEB) August 13, 2013
XOS, a leading provider of mission-critical materials analysis solutions for industries and regulators, announced that DARD Products, Inc. has implemented HDXRF technology in its Product Testing program through the use of HD Mobile™, an instrument used to detect lead and other regulated and potentially toxic elements in consumer products. This state-of-the-art technology is in use at DARD's headquarters in Evanston, Illinois.
HD Mobile Analyzers use high-definition x-ray fluorescence (HDXRF®) technology developed by XOS to screen for regulated elements at much lower levels, and with greater precision and reliability, than traditional XRF analyzers.
"We are extremely happy to be using HD Mobile as part of our Product Safety Testing Program, which helps to ensure product safety and maintain brand integrity," said Cary Shevin, president, DARD Products, Inc. "Now that HDXRF is part of our in-house product safety testing program in addition to third-party lab testing, we hope that this will reassure our distributors that we are doing everything necessary to make sure that every item that they purchase from us is safe to promote and sell to consumers. By implementing HDXRF we have also been able to reduce our overall testing costs without compromising product safety and compliance."
DARD, a leading manufacturer and supplier of promotional items carrying company names and logos, uses HD Mobile to test a variety of promotional products in order to maintain a reasonable testing program for compliance with the U.S. Consumer Product Safety Commission and other national and international heavy metal regulations.
HDXRF is capable of detecting levels of lead and other regulated elements in paint and substrates down to single digit parts-per-million in a broad range of materials. This level of sensitivity and accuracy is accomplished without destroying the product as required by traditional "wet chemistry" methods that are also more costly and time-consuming to operate.
HDXRF analyzers comply with the ASTM Standard Test Method – F2853-10 – for the quantification of lead in substrates and coatings. The sensitivity and accuracy of HDXRF provides "true screening" of all eight elements regulated by the ASTM Standard Consumer Safety Specification for Toy Safety (F963), as well as other potentially toxic elements that may be found in consumer products. In addition, HDXRF can be used to perform heavy metal screening, testing, and verification for compliance with RoHS, Prop 65 and other similar regulations.
"HDXRF technology is used by the Consumer Product Safety Commission (CPSC) and CPSC-approved laboratories around the world. Now that same technology is available in a portable format, the HD Mobile, which can be used for compliance verification anywhere along the supply chain—on the manufacturing floor, at the shipping dock, in the warehouse, or on the retail shelf," said Satbir Nayar, XOS director of sales and marketing. "The precision, speed and portability of HD Mobile make it a great addition to bolster any consumer Production Testing program. By deploying this technology, DARD is strengthening the supply chain by ensuring true compliance with global standards."
For additional information on HDXRF and HDXRF Analyzers, such as the HD Mobile and the HD Prime, please contact Satbir Nayar at snayar(at)xos(dot)com or visit http://www.xos.com/hdxrf.
About DARD Products, Inc.
DARD Products Inc./Tagmaster is a family-owned business with three generations serving the promotional products industry. Tagmaster was founded in 1949 by Jack Shevin and offered four styles of hot-stamped plastic key tags. The company is now headquartered in Evanston, Ill., with a product offering a wide variety of innovative products and maintaining a reputation for excellent quality, service, innovation and integrity.
About XOS
XOS, headquartered in East Greenbush, N.Y., is a leading global provider of mission-critical materials analysis solutions for industries and regulators that must control material quality and performance in consumer products (e.g., toys, apparel and electronics) and energy (e.g., petroleum) industries. XOS pioneered the use of advanced X-ray optics in application-specific analyzers that measure environmental and product contaminants such as lead, cadmium, chlorine, and sulfur. Learn more at http://www.xos.com.