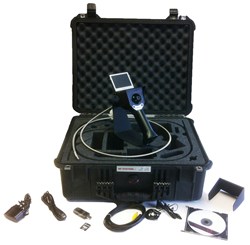 This was a great addition to our tool cage. We had it in use 10 minutes after arrival and it's been busy ever since.

-Richard D.
Aviation Maintenance Supervisor
Traverse City, MI (PRWEB) August 13, 2013
RF System Lab is a leader in remote visual inspection equipment and a manufacturer of today's most affordable, fully functional video borescope. The RF marketing team is strongly focused on the digital trends in today's fast paced world. With rapid growth in the non-destructive testing industry, the need for quality inspection and diagnostic equipment is greater than ever before. To keep pace with the industry, RF welcomes three new members to the marketing team.
Steven Swaney is a Traverse City, Michigan native and a 15-year veteran of digital marketing. Most recently, he worked for a digital marketing agency concentrating on pay-per-click campaigns for clients of varying industries. With a love of enterprise and technology, Steven joins RF System Lab as Senior Marketing Manager.
David Donovan is a native of Traverse City, Michigan. He attended The University of Memphis where he studied Linguistics and Chinese, and later The University of Michigan where he graduated with a dual Bachelors of Science degree in Mathematics and Computer Science. He has been working in technology fields for over twenty years, primarily as a computer programmer and data analyst. In addition to his extensive technology skills, he is also an avid scuba diver and earned his NAUI Divemaster certification in 2007. He also enjoys sailing, running, and is a skilled metalworking hobbyist.
Duncan White joined RF System Lab as the Director of Marketing. Also from Traverse City, he graduated from Michigan State with a psychology degree. He spent 10 years as a university staff member, splitting that time between Michigan State and the University of Texas at Austin. Duncan then spent more than a decade as the Director of Client Services at a leading digital marketing agency. His clients included Meijer, Cintas, Unisys, Service Brands International, Auto Owners Insurance, and more. Duncan has been a frequent speaker at trade shows and conferences. He enjoys spending time with his family, the outdoors, and playing bass in his band.
RF System Lab, creators of the VJ-Advance video borescope, are among the leaders in the remote visual inspection industry. The VJ-Advance is a perfect product for various types of applications and inspections. RF System Lab is so confident in the VJ-Advance that they offer a no-cost, no-obligation demo program. Sign up for your free demo unit today.