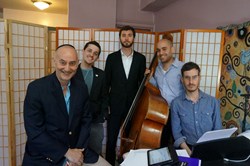 New York, NY (PRWEB) August 13, 2013
Jazz music and Jewish High Holiday Services aren't usually heard in the same sentence. But, Sim Shalom doesn't always follow the traditional route.
This year, they are offering High Holiday Services in Manhattan at a local and well known comedy club, StandUpNY. For just $36.00, you can buy a ticket and attend services with Rabbi Steven Blane, Founder of Sim Shalom, who will be accompanied by a jazz quartet during these innovative concert style Services.
Four Israeli musicians will be accompanying Rabbi Steve: Tal Ronen will play bass, Jack Glottman will play piano, Itai Kriss will be on flute and Eran Fink will play drums.
The services will be held on Thursday, September 5th (Rosh Hashana) and Saturday, September 14th (Yom Kippur) at 10AM. Please note: For those who cannot attend in New York City, Sim Shalom has an alternative - you can watch the service streamed online.
Sim Shalom streams all of their weekday and Shabbat Services live to their international community. Participants can log-on from anywhere in the world and can actively engage by chatting with Sim Shalom staff.
Last year, Sim Shalom hosted High Holiday Services at Small's Jazz Club in Greenwich Village. A jazz trio accompanied Rabbi Blane and the services sold out. What did people have to say about last year's services?
"Rabbi Steve, my only regret was not being in NY for Yom Kippur. The service was not only by far the most interesting and fun, but to me the most meaningful too. I never thought fun and the High Holidays could be combined but you and your team did it masterfully," Jamie S.
This year, Rabbi Steve has even higher expectations for Services. There's even a possibility of a comedian doing a quick bit before the Sermon. Rabbi Steve hopes to create a balance between traditional High Holiday melodies and prayers, jazz music and modern spirituality.
For more information or to buy tickets go to http://www.SimShalom.com. You can also donate to Sim Shalom's "Fund The High Holiday Services" Campaign at Razoo.com and receive "special" incentives including Torah Honors, priority seating and website acknowledgements.
####
About Sim Shalom:
Sim Shalom is an online Jewish Universalist Synagogue whose mission is to nurture a Jewish connection through innovative Services, creative education and dynamic outreach to the global community. They offer Services Monday-Friday live online at 7PM EST. led by different members of Sim Shalom's cadre of Rabbis and Lay-leaders. Information regarding all of these Services can be found at http://www.SimShalom.com.
Rabbi Steven Blane can be contacted at 201-338-0165.  Email: rabbisteve(at)simshalom(dot)com.