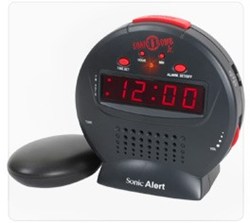 (PRWEB) August 14, 2013
In addition to the extra loud alarm, Sonic Bomb Jr. comes equipped with a powerful vibrating unit that will shake the bed and a built-in red flashing led light that goes off with the alarm. By incorporating these features into the alarm clock, users will not just hear but see and feel the alarm going off, making the chances of them getting out of bed much higher. Let your roommates and neighbors sleep by turning the volume down and using the shaker only. What a nice person!
There will never be concern about your alarm clock not going off due to power outage since Sonic Bomb Jr. comes equipped with a 9-volt backup battery that ensures wake up.
Sonic Bomb Jr. is the perfect item for students who depend on their alarm to wake them up. Elementary students will never miss another morning attendance and college students will have no excuse for missing class. On top of that, it will fit into anyone's budget, making it available for anyone and everyone. Sonic Bomb Jr. is a dependable alarm clock that doesn't just wake up, it shakes up.
For more information, contact Sonic Alert 1050 East Maple, Troy, MI 48083. Phone 248-577-5400, Fax 248-577-5433, or visit sonicalert.com. Sonic Alert provides products to improve the lives of the hard-to-wake, elderly and the hard of hearing. They are committed to continually producing new and innovative products that fill their customers' needs.