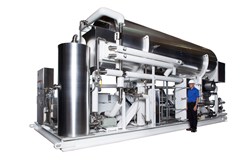 Knoxville, TN (PRWEB) August 14, 2013
Aqua-Chem has designed, engineered and manufactured the world's largest packaged vapor compression distillation unit for the bottled water industry. This latest vapor compression (VC) still will produce up to 7,200 gallons per hour (120 gallons per minute) of USP quality distilled water. The BR7200 expands Aqua-Chem's broad product model line of VC models starting at 200 gallons per hour.
This state-of-the-art VC distillation unit provides maximum energy efficiency per gallon of distillation produced with standard dual heating capabilities. The 7200 is able to generate make-up heat using existing plant steam or built-in immersion heaters, providing owners with the ability to continue operation in the event of a steam outage. Aqua-Chem's patented horizontal Spray Film® process continues to be the best in class at removing impurities and ensuring consistent distillate production with varying feed water conditions.
Aqua-Chem's Spray Film design optimizes the four main elements of distillation - heat, phase change, physical separation and separation space. This patented spray film design works by diverting incoming feed water between two spray headers. Multiple nozzles in the headers distribute sprays of fine mist, distributed evenly over the evaporator tube bundle. The number, spacing and spray angle are optimized to achieve a complete covering of the tube bundle, increasing the effective surface area of the water, maximizing the amount of water that is evaporated into clean vapor.
"The BR7200 is the latest in state-of-the art Vapor Compression distillation product from Aqua-Chem," said President and CEO, David Gensterblum. "We continually strive to design, engineer and manufacture cutting edge technology to meet the demands of our customers. Because we build all of our equipment in-house from design, engineering, and assembly, we have the ability to work with our customers directly to develop unique products for their specific use," said Gensterblum.
"Under normal operating conditions, the 7200 is self-sustaining requiring a minimal amount of additional energy after initial heating required at start-up to support normal, steady-state operation. The only energy required is electrical power to operate the compressor's motors, and instrumentation and control systems, as well as a small amount of make-up heat (via steam or electricity) to account for system heat losses," stated Ron Shook, Director, Pharmaceutical, Bio tech and Beverage Sales.
The BR7200's standard features include:

Patented Spray Film technology
Dual, variable speed direct-drive compressors providing a full range of options for aligning varying distillate output with production needs,
Single construction, horizontal evaporator design reduces maintenance eliminating the need for cumbersome gaskets,
Dual, heating capabilities - make-up heat using plant steam or built-in immersion heaters
Automation - designed to operate automatically; stopping and starting based on level signals from distillate tanks resulting from the programmable logic controller (PLC) and human machine interface (HMI).
BR7200 Specifications: Capacity and Dimensions

Dimensions:
Height - 12' 3" / 3.75m
Length - 25' 0" / 7.62m
Width - 18' 6" / 5.68m
Weight - 60,000 lbs / 27,215 kg
Capacity:
7,200 GPH / 27,300 LPH
120 GPM / 455 LPM
Visit http://www.aqua-chem.com to learn more about the BR7200 from Aqua-Chem.
About Aqua-Chem, Inc:
Founded in 1940, Aqua-Chem is a leading solutions provider in evaporation and membrane technologies and water pretreatment equipment, with a full array of engineering, manufacturing, installation, training, part aftermarket and maintenance services. The company serves the needs of customers in the following major markets: offshore oil & gas, land forces and naval military branches, pharmaceutical/biotech, beverage, commercial marine, micro-utilities/land-based and Industrial Water Reuse. Based in Knoxville, TN, Aqua-Chem sells and services its products in more than 100 countries around the world. To learn more about Aqua-Chem visit http://www.aqua-chem.com/.
Aqua-Chem is a portfolio company of Altus Capital Partners, Inc., an investment firm specializing in middle market manufacturing companies based in the U.S. To learn more about Altus Capital Partners visit, http://www.altuscapitalpartners.com/.