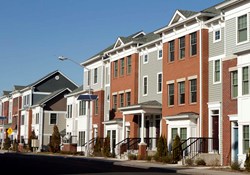 This funding enables us to create housing and spur economic activity and create jobs in these cities.
Marlton, NJ (PRWEB) August 14, 2013
The continued revitalization of two of New Jersey's most important and historic cities—Jersey City and Newark—will continue to move forward now that The Michaels Development Company and its housing authority and municipal partners have secured funding.
The New Jersey Housing and Mortgage Finance Agency (NJHMA) announced last week that three new residential communities being developed by The Michaels Development Company have been awarded Low Income Housing Tax Credit allocations as well as Hurricane Sandy funding from the U.S. Department of Housing and Urban Development's Community Development Block Grant (CDBG) program.
"These are critical developments to the transformation of outdated housing and vacant land into vibrant, mixed-income communities as well as much-needed replacement housing for some of New Jersey's most vulnerable families and seniors," said Michaels Development Company Regional Vice President Joel Silver. "These funding awards will enable us to build communities that also spur economic activity and create jobs for these important urban areas," Silver said.
Two of the developments are in Jersey City, where The Michaels Development Company has been working with the Jersey City Housing Authority (JCHA) for more than a decade on the multi-phase redevelopment of the Lafayette Gardens public housing community. This latest round of funding means the Michaels Development Company and the JCHA can finish the final phase of the revitalization effort, with the completion of the second phase of Glennview Townhouses.
The $16 million Glennview development will offer 64 units in an attractive array of stacked townhouses and apartment flats featuring affordable housing for families with low and moderate incomes that will be identifcal to the homes offered to higher income households. NJHMA awarded $5 million in CDBG funds to Glennview, as well as a tax credit allocation expected to raise $9.5 million in private equity.
The Catherine Todd Senior Living Center, also in Jersey City, is the first phase of the revitalization of the Montgomery Gardens Public Housing development. This high-rise community will be completely renovated, with the finished development offering 68 affordable units as well as 5,000 square feet of community space for recreational and on-site supportive services for its elderly residents. NJHMA awarded the $22.5 million renovation of Catherine Todd $5 million in CDBG funding and a tax credit allocation expected to generate $11 million in private equity.
In Newark, where Michaels was selected by the City of Newark as its redeveloper for the site of the former Douglas Harrison Homes, the tax credit allocation will kick start the development of Spruce Street Senior Residences. This $18.6 million rental community featuring 57 affordable apartments for elderly households was awarded $4.3 million in CDBG funds and a tax credit allocation expected to raise $8.6 million in private equity. The new Spruce Street community will offer its senior residents an array of services, enabling them to live independently longer.
About The Michaels Organization
Michaels Development Company is part of The Michaels Organization, a family of eight integrated but independent companies dedicated to excellence in affordable, mixed-income, military, and student housing. Our mission is to create attractive residential communities for families, seniors, military service members, and students that stand the test of time and that are managed to maximize long-term value for residents as well as investors. Serving more than 100,000 residents in 360 communities across 34 states, the District of Columbia, and the U.S. Virgin Islands and with a development portfolio valued in excess of $3 billion, The Michaels Organization is a national leader in the residential real estate industry, with full service capabilities in development, property and asset management, construction, mortgage finance, and tax credit syndication. Visit http://www.TheMichaelsOrg.com for more information.