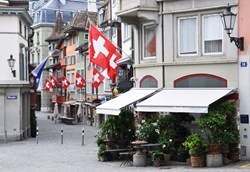 Today, regaining your online Privacy means going Abroad.
Bern, Switzerland (PRWEB) August 14, 2013
It's time to take your data abroad. It's no secret Internet privacy in America is in turmoil. As a true advocate for Internet freedom, PrivacyAbroad, GmbH has announced its new Patriot Privacy Package of data protection services for law abiding citizens, specifically those who desire to regain their fundamental right to online privacy and restore their 4th Amendment Rights. PrivacyAbroad, an American Expat owned company based in Switzerland, offers Internet Privacy services for homes and businesses located in the U.S.A. Partnered with Switzerland's premier secure email, VPN and Swiss digital safe providers, PrivacyAbroad offers a complete line of online privacy services for all digital data and online communications.
With a history of political stability and their traditions of maintaining confidentiality, Switzerland has become known as an international 'safe house' for digital data - and all of the above mentioned is backed up by strong data protection laws (Swiss Federal Data Protection Act). PrivacyAbroad is partnered with some of Switzerland's most established leaders in the Internet protection field, renowned for their exacting standards regarding absolute privacy and quality control.
"The key to our 'privacy guaranteed' services is the fact that our servers are located in Switzerland. Based entirely on that fact alone, our data servers are not subject to U.S. laws such as the U.S. Patriot Act - which allows surveillance, unwarranted access and collection of private data," says Co-founder, Richard Webb. He goes on to say, "as U.S. based private Email providers are closing their doors, people are looking for a secure provider that will be around in the years to come. The good news is PrivacyAbroad has answers for those searching for solutions. Our new Patriot Privacy Package encompasses our secure Email, VPN and DigitalSafe services for individuals and businesses looking to have their data protection all in one place."
About PrivacyAbroad:
PrivacyAbroad, GmbH is a leading innovator of Internet privacy services. Founded in 2013 and headquartered in Bern, Switzerland, the company specializes in marketing secure and reliable Internet privacy services for homes and businesses throughout the United States. They help clients regain their online privacy by providing services based in Switzerland for Secure Email, Virtual Private Network (VPN) and DigitalSafe needs. For more information please visit http://www.privacyabroad.com .
Contact:
David Patrick, Public Relations
PrivacyAbroad, GmbH
U.S. 404-537-9477
Switzerland +41 76 297 6443
http://privacyabroad.com