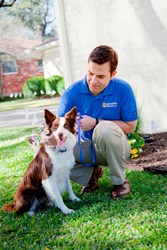 Knoxville, TN (PRWEB) August 12, 2013
This year marks the 40th Anniversary of Invisible Fence® Brand, a company whose solutions were created out of a genuine love for pets and a concern for their lives. The technology was first invented in 1973, and has since been used to keep over 2 million cats and dogs safe at home.
Known for being the pioneer in the pet containment industry, the company has been innovating and perfecting the safety technology since its creation and has expanded its offerings to include avoidance and access solutions as well, which include the only fully integrated electronic pet door.
"There is so much for us to celebrate this year," said Albert Lee, Director of Invisible Fence® Brand. "This is a commemoration of everything our company has done to improve the quality of life for pets and their owners."
The success and growth of Invisible Fence® Brand lies in the network of passionate and knowledgeable pet professionals who install the system, train pets, and provide full support and service using a comprehensive P.E.T. Approach™ method. Their expertise in pet management gained over the past four decades has earned them a reputation for caring, quality, innovation, and reliability. Today, they continue to deliver the most effective solutions on the market.
The company is looking forward to their future innovations to better the pet ownership experience. Invisible Fence® Brand is honoring this milestone by partnering with a panel of animal behaviorists on their most recent initiative to revamp training and touring the U.S. and Canada to certify their dealers.
"Just as product innovation is essential to our industry, we strongly believe that what makes our product innovations work so well is our commitment to continually innovate and improve our training protocol which is key to a happy, well-behaved pet and a happy, at-ease pet owner," said Invisible Fence® Brand's Pet Training Manager, Brian Atkison.
The 40th Anniversary celebration will culminate in December at the company's Annual Dealer Meeting in San Antonio where they will gather to salute innovations and award achievements.
About Invisible Fence® Brand
Invisible Fence® Brand is the original electronic pet containment system and offers a comprehensive family of containment, avoidance, and access products to keep pets out of harm's way and prevent unwanted behaviors throughout both the home and yard. Owned by Radio Systems Corporation in Knoxville, Tenn., Invisible Fence® Brand solutions are sold nationwide by professional, authorized dealers who provide Perfect Start™ Plus training and custom installation that have safely contained over 2 million pets. Invisible Fence® Brand has taken pet care beyond the home and started the Project Breathe™ program, which has donated more than 10,000 pet oxygen masks to fire departments and first responders. For more information on Invisible Fence® Brand or to find a local dealer, visit http://www.invisiblefence.com/.