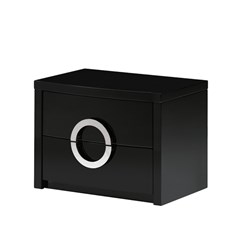 (PRWEB UK) 19 August 2013
The Jasmine Guest house, of Yorkshire, has purchased a Plasma LCD TV and High Gloss Two Drawer Bedside Cabinets from FurnitureInFashion. FurnitureInFashion is one of the leading suppliers of contemporary modern furniture in the UK. The company has established an enviable reputation for maintaining an extensive furniture collection covering every use, from living rooms and dining rooms, to bedrooms and offices, hallways and bathrooms to bars. The company is known for offering some of the most innovative, high end TV stands for use both for public entertainment purposes and as part of their bedroom collections as well. Due to their reputation for offering impressive quality at unmatched prices, the Jasmine Guest House chose FurnitureInFashion when buying a TV stand and bedside cabinets.
The stylish Plasma LCD TV stand bought by the Jasmine Guest House is available in a high gloss, black finish. This TV stand has two high gloss black fronted drawers on the left hand side, giving lots of storage space. These drawers are spacious enough to store all your entertainment room essentials, such as remote controls, peripherals and other equipment. The TV stand has a glass top, complimented by glass shelves. The glass shelves are on the right hand side of the stand and are adjustable. They are ideal for audiovisual equipment. Tempered glass has been used in manufacturing this stand to ensure safety. As an added exotic touch, a smoke tinted black effect has been given to the glass. The TV stand is suitable for up to 42" Plasma or LCD TVs. It has been made of high quality melamine engineered wood for a long life. It has cable tidy holes behind the smoke tinted glass shelves, preventing unsightly cable clutter.
The Jasmine Guest House has also purchased High Gloss White Two Drawer Bedside Cabinets to provide an elegant finish to their bedrooms. This stunning piece of furniture comes with ample storage space. It has been constructed with quality to give the units a long service life. It is an elegant piece of contemporary furniture for the bedroom and can compliment any décor.
The spokesperson of the Jasmine Guest House said, "It has been a great experience working with FurnitureInFashion. The company definitely delivers the promised quality in its products. We were really impressed with the extensive furniture collections offered by FurnitureInFashion. The entertainment furniture offers some of the most astounding TV stands with great high end specs. As the Jasmine Guest House is committed to providing a comfortable modern guest experience, the TV stand we bought delivers everything with regards to our requirements. The bedside cabinet is a welcome addition to our bedrooms as these cabinets offer space, style and durability."
The CEO and Managing Director of FurnitureInFashion said, "The Jasmine Guest House is a perfect platform for FurnitureInFashion to display its furniture specifically for domestic clients. Customers who are looking for high quality TV stands and stylish bedside cabinets should visit our online catalogue. The website of FurnitureInFashion offers complete details on all of our products, along with 24/7 customer service for the convenience of customers. We will be more than happy to address your enquiries or questions."
To have a look at quality affordable furniture online and to place a pre-stock order, please visit the company website today at http://www.furnitureinfashion.net. The range of home and office furniture on the website is huge, delivery is fast, savings are massive and quality is guaranteed.
About FurnitureInFashion
FurnitureInFashion is a UK-based online retail business. It supplies furniture from its German-based warehouse and has a showroom in Bolton, UK. The company provides everything from umbrella stands, wall art and room dividers, to bedroom suites, bar stools, and computer tables. FurnitureInFashion offers free delivery within the UK and is rightly proud of its excellent customer service. For further information and details about sales, please visit http://www.furnitureinfashion.net.