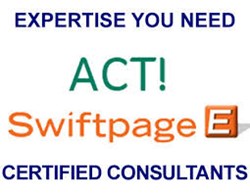 ClientTrax CRM provides local service and support for CRM and e-marketing in the Kansas City and surrounding area.
Kansas City (PRWEB) August 20, 2013
ClientTrax CRM renews its commitment to client relationship management (CRM) and E-marketing solutions with the announcement of Swiftpage's recent acquisition of Act! software. Act! is the number one CRM software with more than 2.8 million users.
Swiftpage is a maker of sales management and e-mail marketing online software for business. Its e-marketing services have been integrated into Act! software for a number of years. They now take ownership of the full Act! line of products.
Swiftpage's integrated marketing enables customers to transform and grow their businesses. With Act! they will have full control of a first-class CRM solution for businesses of all sizes, from those just getting started to well-established enterprises. This gives them a full suite of products including e-mail marketing, social media and contact management.
ClientTrax CRM takes full advantage of all these products and services with years of Act! and Drip Marketing certifications. They offer sales and consulting as well as training and administration. ClientTrax gives clients the tools and expertise to nurture prospects through the sales pipeline automatically by helping you qualify sales leads, learn more about customers' wants and needs, and grow a valuable prospect database.