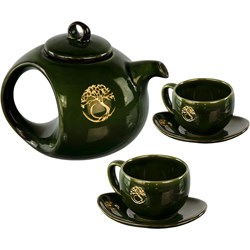 Negative Ions are emitted when humidity and moisture evaporate through a salt medium such as your beautiful salt lamp. Ions promote a relaxed state in your being and have profound health benefits.
Canaan, VT (PRWEB) August 13, 2013
It's possible to take a mini-vacation whenever you need it, to combat the negative effects of stress on body, mind and spirit. Learn simple techniques to stay calm and at peace regardless of your surroundings. The New Age Source encourages you to improve your health and overall state of well-being daily by knowing how to release stress and relax at will.
The experts at The New Age Source selected these great tools for calming body and mind and soothing the soul.
Custom Tea Sets: Relax with your favorite blend any time of the day. Nothing soothes like a warm cup of tea in your own special mug. These lovely, embossed ceramic tea sets include a three-cup capacity tea-pot and two matching cups and saucers. Ideal for sipping alone or sharing.
Salt Lamps: Ideal for home or office, salt crystal lamps create a soft, radiant light with soothing properties that have profound effects on health and wellness. A variety of shapes and sizes are available, ensuring the perfect match for your space.
Amethyst Pyramid: Gemstones, like the beautiful purple amethyst, have been used for centuries for their healing properties. Amethyst calms emotions, brings clarity of thought, and helps you connect intuitively to deep inner wisdom. Pyramids amplify and enhance the properties of stones. Amethyst pyramids are ideal for heightened relaxation and inner harmony. Many other top-quality gemstones are also available, including beautiful selenite soothing stones.
Embossed Singing Bowls: These ancient Tibetan meditation tools produce pure sounds that put the brain into a tranquil, meditative state. The sound vibrations match the wavelengths of the brain that produce instant feelings of relaxation. According to Buddhist teachings, Nirvana is not a place, but a state of mind free from fear. The New Age Source provides beautiful, high-quality singing bowls direct from India. Each bowl includes a wood mallet.
To view more offerings from The New Age Source visit http://www.thenewagesource.com/.
About The New Age Source:
The New Age Source is a leading retailer of high quality metaphysical products. The New Age Source strives to offer each customer personalized inspiration to assist them on their path to inner peace and healing. The New Age source offers a variety of tools for relaxation: candles, salt lamps, meditation tools, oils & diffusers and more to bring more zen to your daily routine.