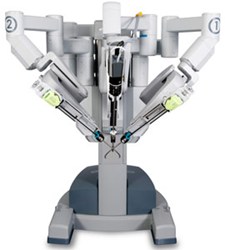 For a free Da Vinci Robot lawsuit evaluation with an experienced and compassionate attorney at Alonso Krangle LLP, please contact us at 1-800-403-6191, or visit http://www.FightForVictims.com
New York, NY (PRWEB) August 13, 2013
Alonso Krangle LLP, a dedicated law firm focused on fighting for the rights of people injured by harmful medical devices, notes that the litigation involving the Da Vinci Surgical System continues to grow in courts around the country. According to a report from NJ.com, for the first time, Intuitive Surgical, Inc. has been named in a Da Vinci robot lawsuit in New Jersey. The Da Vinci robot lawsuit complaint, which was filed in U.S. District Court, District of New Jersey last month, alleges that Intuitive failed to warn doctors that Da Vinci robotic surgery complications could occur as a result of electricity "jumping" from one of the robot's arms into the patient's body. The Plaintiff, a 45-year-old woman, claims she was left with severe abdominal pain and bowel problems due to such an occurrence. According to Alonso Krangle LLP, the allegations made in this most recent Da Vinci robot lawsuit echo those made in other recently-filed claims.*
Alonso Krangle LLP is currently offering free Da Vinci robot lawsuit evaluations to alleged victims of Da Vinci surgery injuries, including surgical burns, torn blood vessels, excessive bleeding, tissue damage and wrongful death. To discuss a potential Da Vinci robot lawsuit claim with one of the experienced and compassionate Da Vinci surgery complication lawyers at Alonso Krangle LLP, please contact us at 1-800-403-6191, or visit our website at http://www.fightforvictims.com.
The Da Vinci Robot Surgical System And Da Vinci Robot Lawsuits
The Da Vinci Surgical System is a robotic surgical device that is increasingly being used for hysterectomies, heart surgeries, prostate surgeries, and gall bladder and bariatric operations. In July 2013, Intuitive Surgical disclosed that it had been named in 33 Da Vinci robot lawsuits, all of which allege negligence on the part of the company resulted in serious, and in some cases fatal, Da Vinci injuries, including excessive bleeding, burns, tears, and perforations of organs, intestines, ureters, blood vessels and arteries. The Da Vinci robot lawsuits further allege that these Da Vinci surgery complications were the result of defects in robot itself, and/or inadequate doctor training by Intuitive.
( sec.gov/Archives/edgar/data/1035267/000119312513297410/d551118d10q.htm; SEC, July 22, 2013 )
Along with the growing litigation, the Da Vinci Surgical System has become the focus of increasing safety concerns. In January, for example, the U.S. Food & Drug Administration (FDA) began surveying doctors to determine if an increase in reports of Da Vinci robot complications was a signal that there could be a problem with the technology. In March, the American Congress of Obstetrics and Gynecology advised its members against the use of robotic surgery for most hysterectomy patients, due to its increased cost compared to traditional procedures, as well as a learning curve that may make Da Vinci robot complications more likely.
( bloomberg.com/news/2013-02-28/intuitive-surgical-robots-probed-by-u-s-in-survey-of-surgeons.html; Bloomberg.com, February 28, 2013 )
( acog.org/About_ACOG/News_Room/News_Releases/2013/Statement_on_Robotic_Surgery; ACOG, March 2013 )
In May, the FDA uncovered a number of troubling issues during an agency inspection of Intuitive Surgical's Sunnyvale, California headquarters. That inspection prompted the agency to issue a Warning Letter to Intuitive on July 16th that cited, among other things, problems with the company's process for notifying the FDA of reported Da Vinci complications.
( bloomberg.com/news/2013-07-18/intuitive-surgical-declines-on-warning-letter-from-fda.html, Bloomberg, July 18, 2013 )
Compensation may be available for victims of alleged Da Vinci robotic surgery complications. To find out if you qualify to file a Da Vinci robot lawsuit, please call one of the experienced and compassionate Da Vinci robotic surgery complications attorneys at Alonso Krangle LLP at 1-800-403-6191, or visit http://www.FightForVictims.com.
About Alonso Krangle LLP And Filing A Da Vinci Robot Lawsuit
Andres Alonso and David Krangle, attorneys with almost 40 years of collective legal experience, have focused their law practice on the handling of significant personal injury cases, defective drug and medical device litigation, construction site accidents, nursing home abuse, medical negligence, qui tam/whistleblower actions and consumer fraud cases. A dedicated law firm fighting for injured victims, Alonso Krangle LLP is headquartered in Long Island, New York, with offices in New York City, and New Jersey.
Alonso Krangle is currently offering free Da Vinci Robot lawsuit evaluations to victims who have allegedly been injured during Da Vinci Robotic Surgeries. To discuss a potential Da Vinci Robot lawsuit claim with one of the experienced and compassionate Da Vinci Robotic Surgery complications attorneys at Alonso Krangle LLP, please contact us at 1-800-403-6191, or visit http://www.FightForVictims.com
*( nj.com/news/index.ssf/2013/08/botched_operation_could_have_been_prevented_suit_alleges.html NJ.com, August 4, 2013 )