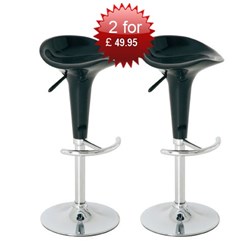 (PRWEB UK) 21 August 2013
The prominent supplier of contemporary modern furniture, FurnitureInFashion, has sold five highly functional and fashionable Pazifik Bar Stools to Bismillah Bakery UK Ltd.
FurnitureInFashion is one of the top suppliers of furniture to both residential and commercial clients throughout the globe. The company maintains an extensive range of furniture collections for living rooms, dining rooms, bedrooms, bathrooms, offices and bars. In the past couple of years, FurnitureInFashion has become a significant name amongst the leading furniture brands in the UK. This is due to their concentration on quality and affordability: the prices offered by the company are unmatchable. FurnitureInFashion has an extensive range of bar furniture including bar stools, bar tables, leather bar stools, gas lift bar stools, folding chairs and bistro furniture. Bismillah Bakery purchased five Pazifik Bar Stools from FurnitureInFashion in different colors.
The Pazifik Bar Stools come in a unique contemporary design. These bar stools feature a chromed steel framework and a comfortable plastic seat. The bar stools have smooth gas lift action, allowing easy adjustment. In order to provide maximum seating comfort even in a limited space, the Pazifik Bar Stool swivels a full 360 degree. The stools are easily adjustable to suit the height of most bar or kitchen tables. These bar stools are available in silver, red, blue, black, yellow, orange, ruby, pink, and white and red. With a width of 38cm, a depth of 36cm and a height of 60 to 78cm, the Pazifik Bar Stools are ideal not only for commercial purposes but for residential use as well. Bismillah Bakery is a well-established and highly regarded cake maker, specializing in the bespoke design and creation of mouthwatering cakes. Whatever the occasion or event Bismillah Bakery provides the ideal themed design. All cakes offered by Bismillah Bakery are handmade using the finest flavors, textures and ingredients.
A spokesperson for Bismillah Bakery said, "Having comfortable seating is a key requirement for every catering enterprise. Bar stools are the most convenient type of seating when there is only limited space. Bismillah Bakery was looking for contemporary, stylish and comfortable bar stools with a distinct, signature style in trendy colors. After researching through several furniture suppliers' websites, we stumbled upon FurnitureInFashion's site. The bar stools offered by this retailer were just what we were looking for. They are extremely functional and robust. The colors were great, again just what we needed. The Pazifik Bar Stools were only one of the excellent designs we saw on FurnitureInFashion's website, but we especially liked the really smooth gas lift action. We are completely satisfied with the quality of these bar stools and look forward to working with FurnitureInFashion in the future."
The CEO and Managing Director of FurnitureInFashion said, "The Pazifik Bar Stools with their comfortable seats and excellent chrome steel frame will definitely enhance the appearance of any space. We take pride in being chosen by Bismillah Bakery to supply these bar stools. FurnitureInFashion is committed to provide quality furniture at the most affordable prices. Customers who are looking for stylish bar stools for limited spaces should have a look at the Pazifik Bar Stools in FurntiureInFashion's website."
To have a look at quality affordable furniture online and to place a pre-stock order, please visit the company website today at http://www.furnitureinfashion.net. The range of home and office furniture on the website is huge, delivery is fast, savings are massive and quality is guaranteed.
About FurnitureInFashion
FurnitureInFashion is a UK-based online retail business. It supplies furniture from its German-based warehouse and has a showroom in Bolton, UK. The company provides everything from umbrella stands, wall art and room dividers, to bedroom suites, bar stools, and computer tables. FurnitureInFashion offers free delivery within the UK and is rightly proud of its excellent customer service. For further information and details about sales, please visit http://www.furnitureinfashion.net.