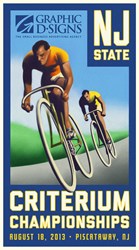 We're proud and excited to support the New Jersey cycling community with this historic bicycle race. - Dan Antonelli, President & Creative Director of Graphic D-Signs
Piscataway, NJ (PRWEB) August 13, 2013
Registration is now open to all NJ bicycle racers for the Graphic D-Signs New Jersey State Criterium Championships. This year's race is sponsored by Graphic D-Signs, Inc. (GDS), a New Jersey-based advertising agency and digital marketing agency for small businesses nationwide based in Washington, NJ.
The championships will commence promptly at 8:00AM, on August 18th, 2013 in the town of Piscataway (40 Kingsbridge Rd., Piscataway, NJ). Racers can register here: https://www.bikereg.com/Net/19839.
GDS promises the championships to be one of New Jersey's most competitive races of 2013, with categories for Men, Women, and Junior Races. The event will feature podium presentations for all winners, a spectator-friendly course, and intense competition from some of the state's finest cyclists in this "crit" style of bike racing.
"We're proud and excited to support the New Jersey cycling community with this historic bicycle race," said Dan Antonelli, avid cyclist and president of GDS. A member of the Liberty Cycling race team, Antonelli notes how the event is "an amazing opportunity for the community to also see a bicycle race up close."
Riders can expect to power through a challenging one-mile loop, with four turns and a final finish that will test their competitive limits. Spectators can count on witnessing classic battles for position on a course largely viewable from a single vantage point.
"This is one of the most important races in the state and we're so happy to see the community of Piscataway welcome us to race there," said Greg Cordasco, this years race promoter and owner of the Basking Ridge based bike shop, Liberty Cycle. Cordasco also runs the Liberty Cycle Racing Team, one of the nation's largest bike clubs with more than 200 participants. "We're looking forward to a great day of races with some of the finest cycling athletes the state has to offer."