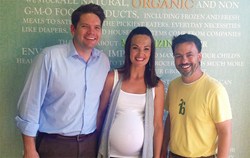 5% of all in-store and online sales at The Baby Grocery Store on 8/19 will go to Ace & TJ's Grin Kids Foundation.
Charlotte, NC (PRWEB) August 13, 2013
Ace & TJ's Radio Family Baby parents-to-be Peter and Kristin will have their baby shower at The Baby Grocery Store Monday August 19 from 5-8 p.m. The event will have baby shower games, food, swag bags, plus prizes for the guests. The baby shower will be open to the public and several members of the morning show will be in attendance, including TJ. Since space is limited, guests are encouraged to register at http://goo.gl/guBFkn.
Ace & TJ is a syndicated morning radio show, based out of Charlotte, NC, and is on air in 10 states. In July, the radio show stars "adopted" a local couple, Peter and Kristin who are expecting their first child in September 2013. Ace & TJ are helping the happy couple navigate through the joys of parenthood while documenting on air as well as a blog/vlog.
The Baby Grocery Store has teamed up with Ace & TJ and the Radio Family Baby's parents-to-be to help supply eco-friendly products, demos, and support. Peter and Kristin's baby shower will be held at The Baby Grocery Store and 5% of all sales on August 19 will go to Ace & TJ's non-profit organization Grin Kids. The public will also have a chance to buy items for the next Grin Kids trip to Disney through their in-store and online registry.
Over the years, Ace & TJ's Grin Kids has taken over 262 Grin Kids and their families to Disney World, all expenses paid. Because of their special needs and financial strain, this is an experience that many of these children and families would not be able to know without the help of Ace & TJ's Grin Kids.
About The Baby Grocery Store
The Baby Grocery Store has created a unique all-inclusive shopping experience that is revolutionizing how parents shop for baby essentials. They stock all-natural, organic and non-GMO certified food products to satisfy even the pickiest eaters. They also carry everyday necessities like cloth and compostable diapers, wipes, personal care items, carriers and slings, toys, and household items that come from companies that care about minimizing their environmental impact and maximizing your child's health and safety. For online shopping, store events, resources and more, visit http://www.thebabygrocerystore.com.