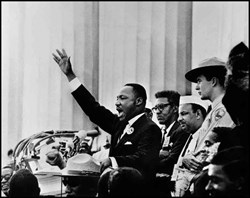 The March on Washington is a symbol of the change that can happen when people work together. On this day, we will honor our nation. - Chad Simmons, Executive Director Diversity Focus
Cedar Rapids, IA (PRWEB) August 16, 2013
A city-wide commemorative event for the 50th Anniversary of Dr. Martin Luther King Jr.'s March on Washington will occur on Saturday, August 24 at the African American Museum of Iowa from 11:00 a.m. to 12:00 noon.
Cedar Rapids Mayor Ron Corbett and the ACLU of Iowa's Executive Director Ben Stone are set to speak. "The March on Washington is not only one of the most significant events in the history of the civil rights movement but in the history of America as well. This single demonstration, the likes of which no one had ever seen before, served as the catalyst for passage of both the Civil Rights Act and the Voting Rights Act," says Keith Rippy, Cedar Rapids Civil Rights Board Chair.
"The March on Washington fifty years ago was one of the most remarkable moments in the history of American Democracy. It is my hope that its commemoration all over the country can help remind us that despite the flaws and corruption that is evident in Washington, it is still possible to make human rights gains if we refuse to give up and remain steadfast in our demands for a just society," says Ben Stone, Executive Director of the American Civil Liberties Union of Iowa. Chad Simmons, Executive Director of Diversity Focus says, "The March on Washington is a symbol of the change that can happen when people work together. On this day, we will honor our history."
Event-goers will also have the opportunity to learn more about the hosting organizations including the African American Museum of Iowa, Mt. Zion Missionary Baptist Church, Peoples Church, Diversity Focus, and the Cedar Rapids Civil Rights Commission.
This event is free and open to the public.