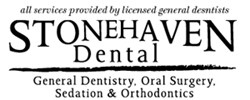 Sedation helps to eliminate anxiety that patients commonly experience.
Salt Lake City, Utah (PRWEB) August 13, 2013
Dental work is a source of fear and anxiety at any age. Most procedures—from root canals to the most minute of cleanings—are enough to send many into a panic. This stress is not only emotionally traumatic, but can endanger the patient as well. Once feared as an extreme measure, sedation dentistry in Utah is becoming more popular with the general public. The method has become more accepted as a social norm due, in part, to many insurance companies recognizing that—for many— patient anxiety is very real.
Stonehaven is one family dentist in Salt Lake City in particular that stands out from the crowd as a primary advocate for sedation—recognizing the severity of dental-related anxieties and the dangers that can result of having an attack mid-operation.
Stonehaven dental offices in Orem are making strides to put their patients more at ease. The technicians at Stonehaven are seasoned experts and no strangers to performing on those with uncertainties. And not all fearful patients are children—many adults have painful memories stories of their own. Whether you've had a traumatic experience in the past or just don't like to be poked and prodded, this family dentist in Salt Lake City can put your mind at ease.
Dentist's offices certainly have a stigma attached to them. Most people visit only when absolutely necessary, and it is this avoidance that puts oral health care in jeopardy. Stonehaven dental offices in Orem are attempting to break that stigma and provide a comfortable environment for their patients. Healthy teeth and gums are crucial at every age and, with this in mind, Stonehaven is implementing any means necessary to get the patient in—and out—with as little pain possible.
Sedation dentistry in Utah is an asset to any practice, as it allows those less-inclined to get a check-up to seek the medical attention they need. Sedation also allows professionals to accomplish more than one procedure per visit, preventing a drawn-out and time consuming experience.
For years, Novocain shots were the only viable option for those looking for an easier way to endure. New techniques from the Stonehaven family dentist in Salt Lake City allow for a wider range of knock-out results, ranging from a light sense of euphoria to complete (though short-lived) unconsciousness. In many cases, a higher dose of sedative, one that induces sleep, is crucial for those patients with a higher level of anxiety.
No matter the method, Stonehaven is committed to ensuring their patients' comfort. The practice encourages their clients to get the facts, and to know all their options, before making a decision. The days of the anxiety-ridden waiting room are over. Visit Stonehaven dental offices in Orem online at stonehavendental.com to learn more because, as cofounder Mary Hegerman puts it, "No one deserves a bad experience."