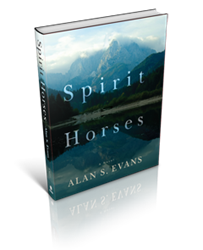 "SPIRIT HORSES is a wonderful book that reads like the best gripping movies. A visually impressive and emotionally stirring work."—Fresh Fiction
Longboat Key, FL (PRWEB) August 13, 2013
Oceanview Publishing announces the upcoming release of SPIRIT HORSES by Alan S. Evans (trade paper, ISBN 978-1-60809-114-0, Literary Fiction, 360 Pages, List Retail $15.00) on October 5, 2013. SPIRIT HORSES was previously published in hardcover (ISBN 978-1-933515-25-0, List $25.95) and all eBook platforms (ISBN 978-1-933515-49-6, List $14.95). The novel has proven to be immensely popular among readers, with over 200 five-star ratings on Amazon, alone.
Oceanview provided this synopsis:
"In the hills of Tennessee, Shane Carson, a gifted, nationally-recognized horseman, is living the good life. When a mysterious mustang shows up on his farm, Shane doesn't know how—or why—the horse appeared, but the horse's distinctive brand identifies her. She is one of the Spirit Horses, a rare, wild herd that runs free on the Shoshone reservation in Wyoming. Watched over for centuries in the tribe's ancestral valleys, these exquisite horses, according to belief, provide a link to the afterlife.
When tragedy strikes in his life, Shane nearly loses his will to live—but for one promise he made to his young son: to return the mustang to her rightful home.
On this bittersweet journey, Shane finds a world where tradition reigns, and ancient beliefs transcend modern logic. In this magnificent expanse of blue sky and wide open spaces, love is alive, but hate, intolerance, and greed threaten to close in.
To make good on his vow, Shane must face the danger that threatens these horses, the tribe's legacy, and his destiny."
The Buzz:
"Alan Evans throws us in with the horse whisperers, an ancient horse legend, and a mare with a secret destiny. Evans is an artful storyteller, taking his readers on a spirited ride to a satisfying end." —Shelley Fraser Mickle, NPR commentator and author of BARBARO: AMERICA'S HORSE
"SPIRIT HORSES has a rare and satisfying verisimilitude in part because Evans' life is as interesting as his book. His love and respect for horses shines through every page as does his respect for tradition and family values. A heart-warming read." —The Boca Raton News
About the Author:
Alan S. Evans's passion for training horses shines through brilliantly in SPIRIT HORSES, a suspenseful novel that blends resilience, romance, spirituality, and the magical mystique of the treasured Shoshone mustangs. Evans lives with his wife and two children on a horse farm in northern Florida.